The elected civic members of Karaveddi South-West Piratheasa Chapai (PS) on Monday paid floral tribute to the fallen Tamil Heroes, who were remembering the fallen fighters in the independence struggle of Eezham Tamils. The courageous move comes on the same day as Colombo's military establishment issued a ban on commemorating the fallen Tamil fighters on November 27. Within a few hours, alleged SL military squads smashed the windows of two Tamil councillors. This year, the moral responsibility to mark the Heroes Day has fallen on the shoulders of the members of the Tamil National Alliance as they had gone seeking votes from the public in the recent elections to the Northern Provincial Council promising the people to restore their democratic right of remembering those who sacrificed their lives in the war.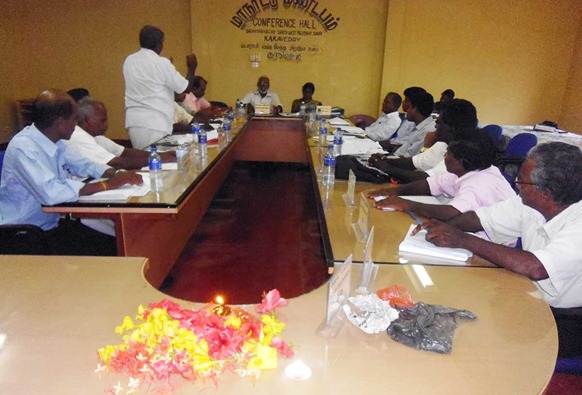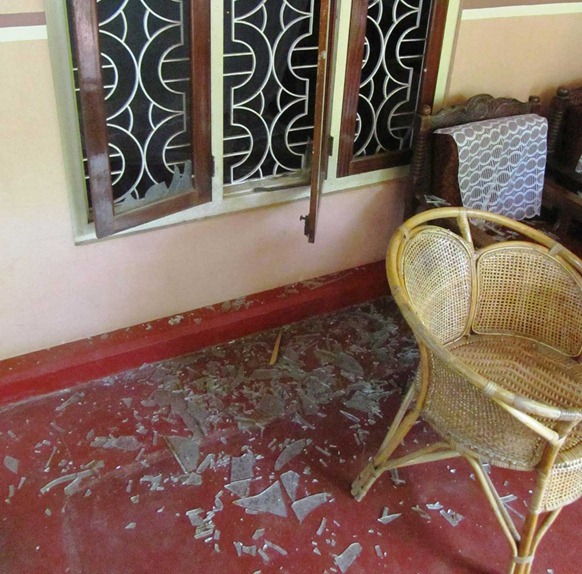 The house of Tamil councillor Mr Viyakes was attacked by SL military operatives in the early hours of Tuesday.
Since 2009, the University student community was fighting for the collective right of remembering those who sacrificed their lives in Tamil struggle.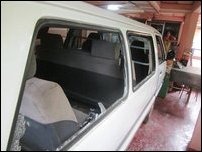 Last year, the SL military establishment, attacked Jaffna University students at the female hostel while they were observing a memorial event on Heroes Day and the following day, the student community staged a peaceful protest against the brutality of the SL military. Armed military and police commandos attacked the peaceful rally and the student leaders were later forced to turn themselves at the hands of Colombo's Terrorist Investigation Division that sent the student leaders for a prolonged 'military rehabilitation', a move which was vehemently opposed by the University community including the Teachers Union.
University of Jaffna is shut down till 02 December this year following the instructions by Colombo.
The Sri Lankan military Establishment has come with an official warning in Colombo on Monday. Promoting and propagating "separatist ideology within Sri Lanka directly or indirectly, even by using media freedom, and attempting to commemorate or glorify terrorists that belonged to a proscribed organisation would be illegal," it proclaimed.
Latest reports from Nelliyadi said that the SL military intelligence operatives were attacking and threatening the elected members. The journalists and photographers have also been warned against disseminating the news of the remembrance events being observed by the democratically elected Tamil councillors.
The chair of Karaveddi South-West civic body Mr P. Viyakes, who presided over the remembrance event was questioned by the intelligence operatives, news sources in Vadamaraadchi said. A group of attackers smashed the windows of his house and vehicle in the early hours of Tuesday.
Tamil Heroes Day is to be observed in unity among the Tamil Diaspora across the globe this year.
In Tamil Nadu, the Day would be marked across the State, as well as at the recently opened memorial site, Mu'l'livaaykkaal Muttam, at Thanjaavoor.
(For updates you can share with your friends, follow TNN on Facebook and Twitter )