"Facing growing pressure by the international community for an effective investigation, Sri Lankan authorities are attempting to deflect public attention by claiming that another investigation into the Muttur massacre has been opened. However, deliberate subversion of the investigative process over the past 7 years and continuous harassment of witnesses and journalists who have raised the case have demonstrated that no effective legal action can be taken in today's Sri Lanka in relation to the Muttur massacre," said France-based NGO Action Contre la Faim (ACF), whose 17 humanitarian workers were shot and killed at point blank range by Sri Lanka Army (SLA) soldiers in Moothoor, Trincomalee, in August 2006.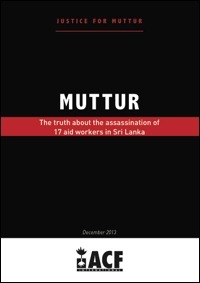 The 17 humanitarian aid workers were likely assassinated by members of Sri Lankan military and that the criminals must have been covered up by Sri Lankan top authorities. Stating that the Moothoor massacre is one of the most atrocious war crimes ever committed against humanitarian personnel, the ACF report said.
"The ACF believes that only an independent international investigation can effectively lead to prosecution of the killers."
PDF: ACF Report: The truth about the assassination of 17 aid workers in Sri Lanka
The ACF has closely followed the domestic investigation "only to become convinced that the Sri Lankan justice system is incapable of investigating the case. Several domestic mechanisms dealing with the Muttur massacre arrived at no conclusion: the Magistrate Court (from 2006 to 2008), the National Commission of Human Rights (from 2006 to 2008), the Presidential Commission of Inquiry (CoI) (from 2007 to 2010) and the Lessons Learnt and Reconciliation Commission (from 2010 to 2012)."
Meanwhile, a lot of information has leaked into the public domain, the ACF said. Such information consists of the names of the alleged murderers.
"This report brings together publicly available information on the Muttur case, combines this with information obtained by ACF directly (from witnesses, diplomatic contacts and other sources close to the matter) and offers several arguments in support of this allegation."
The report begins with the results of independent investigations and individual testimonies which implicate Army, Navy and Police personnel in the killings and continues with a description of how the security forces attempted to destroy the evidence in the days immediately after the massacre.
The report then explores the multiple irregularities of the official investigation which have helped the killers avoid justice and the role that the top Sri Lankan authorities have played in providing impunity.
"With no prospects of an effective domestic investigation today, ACF has decided to publicly say what it knows about the Muttur massacre," the report said in its executive summary.
(For updates you can share with your friends, follow TNN on Facebook and Twitter )