The masked men, who on Tuesday attacked a peaceful demonstration, which was staged by the relatives of missing persons in Trincomalee, belong to a squad operated by the intelligence wing of the occupying SL military, the organisers of the protest said on Wednesday. The members of the squad arrived through the Sinhala market, parked their motorbikes and launched the attack after covering their faces with clothes. More than one hundred peaceful demonstrators, most of them women, carrying the photos of their missing kith and kin, were brutally attacked by the men, who also destroyed the photos and placards on Human Rights Day in the city of Trincomalee while SL Policemen were watching the unfolding violent episode.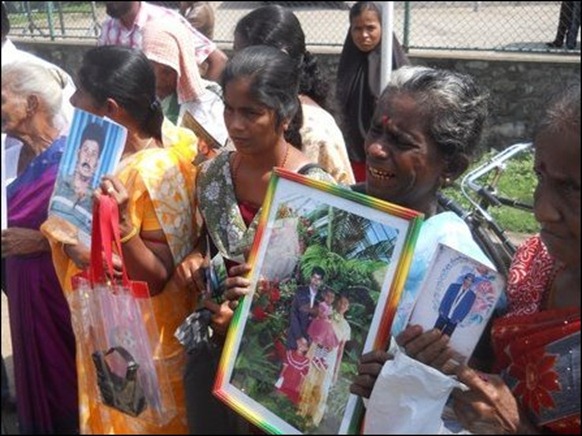 The organizer of the peaceful protest Sundaram Mahendran was injured and hospitalized and a Tamil National Alliance politician Mr K. Thiruchelvam, who was the former opposition leader of the Moothoor civic body, were injured and admitted to hospital.
Mr Sundaram Mahendran is still hospitalized on Wednesday, news sources in Trincomalee said.
The attacking squad, which was conversing in Sinhala, used batons and stones against the peaceful protestors. Several women were attacked. The attackers destroyed the placards and photos which were carried by the women.
A tense situation prevailed in Trincomalee city on the International Human Rights Day following the attack by the intruders.
The protest by relatives of disappeared was held near the Trincomalee bus stand at 11:00 a.m
(For updates you can share with your friends, follow TNN on Facebook and Twitter )