Canadian Eezham Tamil parliamentarian Rathika Sitsabaiesan representing Sacarborough-Rouge River constituency, who was on a visit to the island has come under the harassment of the occupying Sri Lankan military and police establishment in Jaffna on Tuesday evening. SL 'Terrorist Investigation Department' Officer-in-Charge in Jaffna Ranaweera accompanied by two TID female officers, who were waiting at a hotel in Jaffna, where Ms Rathika Sitsabaiesan was staying, have placed the visiting Canadian parliamentarian under an 'unofficial' house-arrest after she entered the hotel around 7:00 p.m., concluding a visit to the uprooted people of Valikaamam North and Vadamaraadchi with the chairman of Valikaamam North Piratheasa Chapai (PS) Mr S. Sugirthan.
Around 8-10 TID officers are stationed at the hotel. No one is allowed to meet the visiting Canadian parliamentarian, news sources in Jaffna told TamilNet Tuesday evening.
The latest move by the Sri Lankan TID, which usually receives direct instructions from the SL military command in Colombo, comes after Ms Sitsabaiesan was touring Jaffna after she visited Mannaar on Sunday and Ki'linochchi on Monday on her way to Jaffna.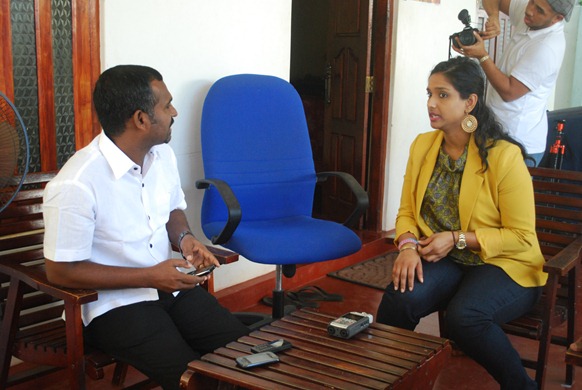 In Mannaar, Ms Sitsabaiesan met Northern Provincial Council (NPC) minister of fisheries and transport, Mr B. Deniswaran, religious leaders and civil society members. Tamil National Alliance (TNA) parliamentarian Sivagnanam Sritharan was also present in Mannaar, meeting the visiting Canadian parliamentarian.
On Tuesday, the TID interrogators of the occupying SL military went to the office of TNA MP Sritharan in Ki'linochchi and questioned about the whereabouts of the visiting Canadian MP.
In the meantime, Ms Rathika Sitsabaiesan, who had reached Jaffna on Monday, met Valikaamam North uprooted peoples, representative Shanmugalingan Sajeevan and Northern Provincial Council (NPC) member Ananthi Sasistharan in Jaffna on Monday, informed sources in Jaffna said.
The latest 'house arrest' of the Canadian MP comes after deportations of a known Eezham Tamil poet from Norway and a visiting young journalist from India.
Canadian Eezham Tamil Parliamentarian Rathika Sitsabaiesan in Mannaar
(For updates you can share with your friends, follow TNN on Facebook and Twitter )