The occupying Sri Lankan military, which has seized public and private lands in Valikaamam North and bulldozed the buildings, is constructing an arch on Palaali Road, which will be the future entrance to the Sinhala Military Zone (SMZ) and its township. The SL military has almost completed the process of bulldozing the buildings inside the SMZ without leaving any trace. In the meantime, the economic assistance from India and other powers, which are locked in the geopolitical game, goes to 'develop' ports, corporate outfits, electricity farm and the airstrip of the township of the Sinhala Military Zone in the country of Eezham Tamils.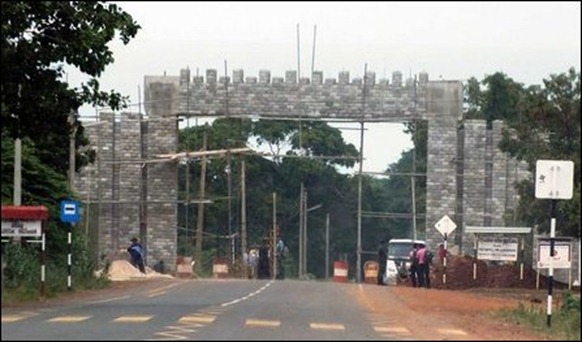 The Sinhala military has also planted scrub at several locations, those who have witnessed the destruction say with photographic evidence from the SMZ.
The only buildings that remain are those used by the SL military as reported earlier.
Although the land seized by the SL military is around 6,400 acres of lands, the real extent of the appropriation is much larger, the sources further said.
SL military is planning to create a Sinhala military colony and township in the occupied SMZ to settle around 5,000 Sinhala families of SL military personnel from the South.
The seized lands also contain the most fertile cultivation lands found in the peninsula as well as the coastal strip with significant fishing beds.
While thousands of uprooted people from Valikaamam North continue to languish in the so-called Welfare Centres and with their relatives and friends in the peninsula, the SL presidential sibling and defence secretary Gotabhaya Rajapaksa who undertakes 'Special Envoy' claims that all the uprooted people have been resettled and that there are no 'displaced' people in the entire island.
(For updates you can share with your friends, follow TNN on Facebook and Twitter )