Leader of the Opposition in the New Zealand Parliament, Mr David Cunliffe, on Saturday, assured that his party would follow an independent foreign policy and would support international investigations into the war crimes and crimes committed against Tamils. He was addressing a grand gathering of Eezham Tamils celebrating Pongkal festival at the Mt. Eden War Memorial Hall in Auckland. The NZ Labour Party leader has promising chances of becoming the next Prime Minister, political observers in New Zealand said.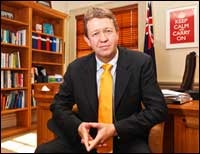 "What happened during the final stages of the war in Sri Lanka is now an open secret. It was a deliberate annihilation of innocent lives in tens of thousands – even women and children, toddlers and sucklings in their mothers' arms were not spared and were buried in the bunkers. It is a tragedy of tragedies, a black era of the 21st century," said Mr. David Cunliffe in his address.
"The end of the war has not led to the end of the despicable trends in inter ethnic and inter religious relationships. On the contrary it has aggravated the situation. We are watching the ever-increasing sexual abuse of Tamil women under a militarised administration of the North and East, setting at nought the civil liberties and civil administration," the Labour leader further said.
He condemned the NZ Prime Minister for participating the Sri Lanka CHOGM.
"Our Prime Minister Mr. John Key by participating in the CHOGM meeting in Sri Lanka in November last year defiled the norms on which the Commonwealth was founded. He should have at least lent support to the British Prime Minister Mr. David Cameron in condemning the continuing serious human rights violations in Sri Lanka," the Leader of the Opposition remarked."
"The International Community cannot compromise the violation of the inalienable inherent right to human dignity, humanism, human rights and humanitarian laws. We will follow an independent foreign policy and will retrieve New Zealand from the current perilous plight. We will support an international inquiry into the war crimes and crimes against the Tamils," he assured, receiving a standing ovation from the Eezham Tamil gathering.
The Opposition Leader's hint at the need of 'independent foreign policy' even in supporting obviously righteous matters of humanitarian importance is what that haunts the so-called Liberal Democracies of the world today. The issue implied by Mr David Cunliffe has to be carefully perused by the entire humanity, in order to identify the ultimate forces that dictate foreign policies and to collectively act on their edification, commented Tamil diaspora activists.
(For updates you can share with your friends, follow TNN on Facebook and Twitter )