The Tamil Catholic people of the coastal village of Peasaalai in the north-west of the Mannaar island on Thursday took to the streets in protest against the genocidal land grab by the occupying Sinhala military. The protest took place when the SL Navy brought land surveyors to measure a land belonging to the 600-year-old church in their village. The occupying Navy, which is already stationed in the one-acre coconut palm grove, is now trying to permanently seize the land from the church. The people of the village mobilized against the move and blocked the surveyors from measuring the land despite the harassment by the occupying navy video-filming the people amidst the deployment of a large number of SL navy sailors at the site.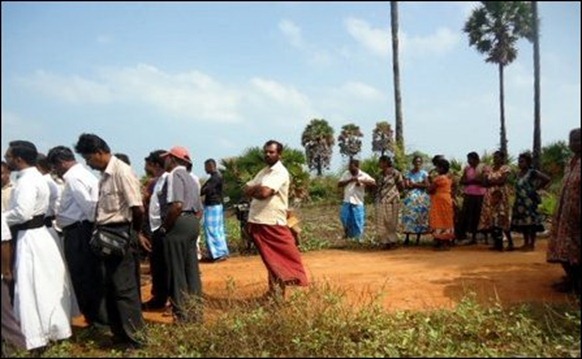 Lawyer and Tamil National Alliance (TNA) councillor of the Northern Provincial Council, Mr Antony Soosairatnam Pirimussiraiva, Mannaar Divisional Council (PS) member Mr Jastin Jude Consal Kulaas (TNA) and Fr Arudkumaran were with the villagers, when the SL Navy officers from Sunny Village camp deployed additional troops at the site.
The people and their representatives refused to allow the surveying to take place.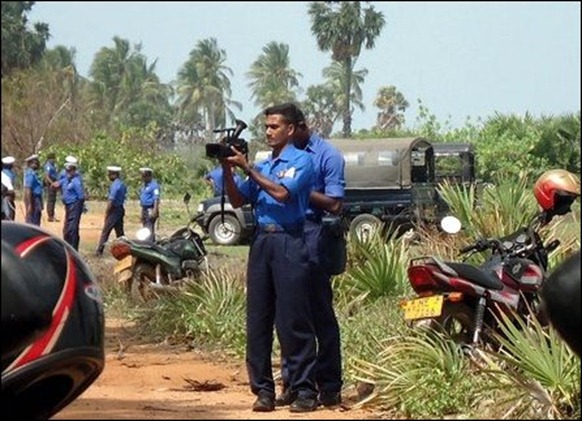 A SLN officer was threatening the villagers and grabbed a cell phone from a protesting civilian and threw it away. He also warned the reporters against covering the episode. A SL Navy person was taking video of the protesters, but the people didn't leave the site till the SL Navy withdrew the troopers back to the barracks.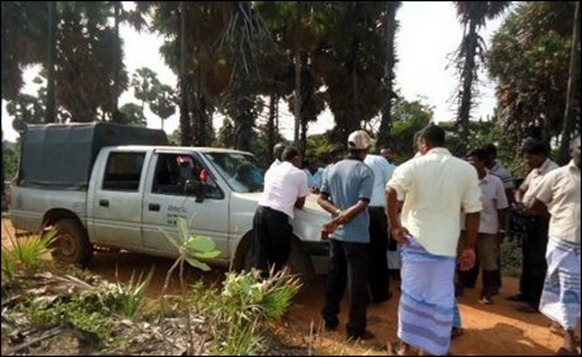 The Church of Our Lady of Victory is one of the largest Catholic churches in the island.
Peasaalai is a large village, situated in the North-West of the island of Mannaar, with a population of 8,000 Eezham Tamils and 90% of the population are Catholic fisher folk.
With one of major resourceful fishing beds in the island, Pesaalai fishermen were supplying fish to the entire island before 1980.
The Sri Lankan military is alleged of scheming Sinhalicisation of Thalaimannaar Pier, which is the closest point in Mannaar to the coast of Tamil Nadu in India.
On 17th June, 2006, the Sri Lanka Navy, in one of its brutal attacks on the village, shot at least four innocent Tamil civilians through their mouths and lobbed a grenade on the civilians, who had taken refuge at the church, killing a woman and injuring 44. Six civilians, one of them a Muslim, were killed by the SLN that day.
Many youths have been reported missing in the village.
The people of Peasaalai have been protesting against the occupation of their village by the Sinhala military for almost 10 years.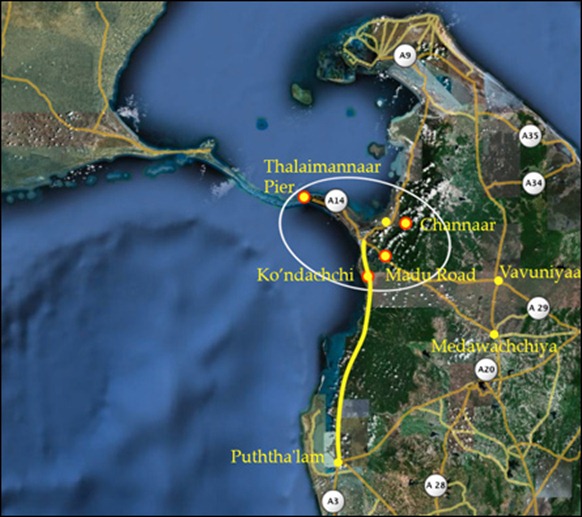 The area of Sinhala militarisation and colonisation in the Mannaar district, abetted by New Delhi and Washington, targeted against the interaction of Eezham Tamils with the coast of Tamil Nadu
(For updates you can share with your friends, follow TNN on Facebook and Twitter )