The full moon day that falls in the traditional solar month of March–April is a major festival day for Saivaite Eezham Tamils as well as Tamils in Tamil Nadu. Known as Pangkuni Uththaram, it marks the grand finale of the annual festival, including the car festival, of all the Siva temples. The folk of Tamil Nadu and the Up-Country Tamils of Tamil Nadu origin in the island celebrate it as Kaaman festival, marking Siva reducing Kaaman (cupid) into ashes. It is a major festival for the Up-Country Tamils. But this year, the New Delhi Establishment's Consulate General in Jaffna, brought in a 'cultural' concept altogether new to Tamils in the island, by introducing Holi and smearing colours on that day.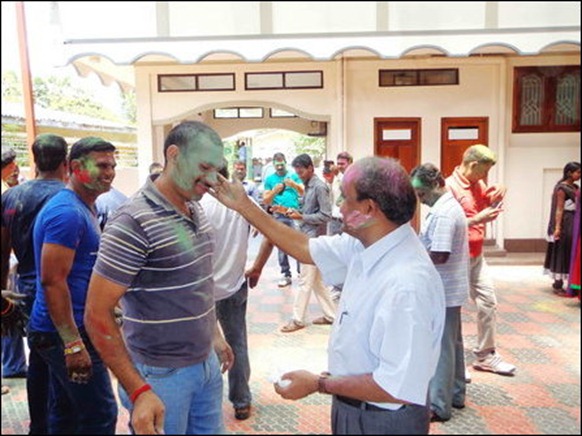 What was the 'New Delhi imperialism' or 'Hindi/ Hindutva imperialism' part, conspicuous in the show of India in Jaffna, was its press release explaining the festival, which was totally ignorant of the pluralism of its own cultural heritage.
New Delhi's Consulate General in Jaffna seems to be having no idea at all on the pluralistic ways in which the day is celebrated.
PDF: Press statement by CGI in English
The press release said that as "the liveliest of all Hindu festivals" it is observed all over North India, and added, "celebrations in Mathura and the small towns of Braj Bhoomi, the land of Sri Krishna, are spectacular."
PDF: Press statement by CGI in Tamil
Smearing colour on all those who were present and all those who were passing by, the Consulate General said, "Sri Lankan students who had joined the "India Corner" at the Consulate also participated in this event and witnessed this colourful festival."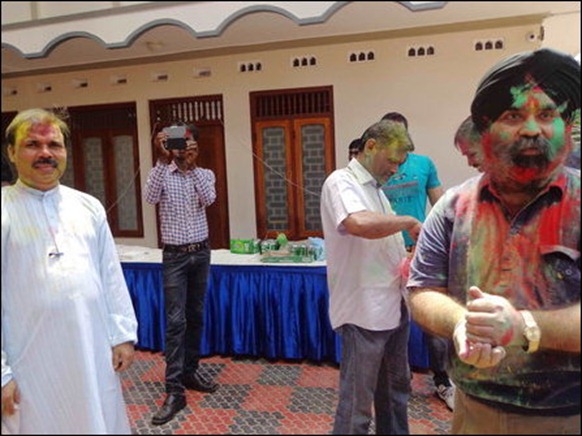 Boxes of Heineken cans were seen at the celebration venue.
The 'liveliest Hindu' festival celebrated by the New Delhi Establishment's Consulate General in Jaffna with the serving of Heineken.
(For updates you can share with your friends, follow TNN on Facebook and Twitter )