Despite the continuous refusal from the people, the occupying Sri Lanka Army is forcefully settling Tamil people from Keappaapulavu by constructing 121 'sample' houses at a jungle locality called Sooriyapuram. The houses are to be handed over in a military function scheduled to be attended by Gotabhaya Rajapaksa, the SL presidential sibling and defence secretary of the occupying State, who has also instructed its military Establishment to get rid of the complaints from uprooted people from Valikaamam North in Jaffna district by forcing them to accept 'alternative' housing schemes being offered at quarry lands in Kaangkeasan-thu'rai after permanently seizing their fertile lands from them in 24 village divisions. Also, people from Champoor in Moothoor East in Trincomalee district, currently staying in the so-called welfare camps are being harassed to accept forced resettlement.
SL military has seized thousands of acres of lands in Keappaapulavu near Nanthik-kadal for the establishment of a Sinhala Military Zone.
The latest move of forcing people of Keappapulavu into a jungle pocket comes after the USA and UK dropped the 'de-militarisation' demand in the resolution passed at the UN Human Rights Council last week.
The people from Keappaa-pulavu, who have been staging protests demanding resettlement at their own lands and appealed directly to the UN High Commissioner for Human Rights Navi Pillay during her last visit to North and East, are now being forced to accept a military constructed housing scheme at gun point.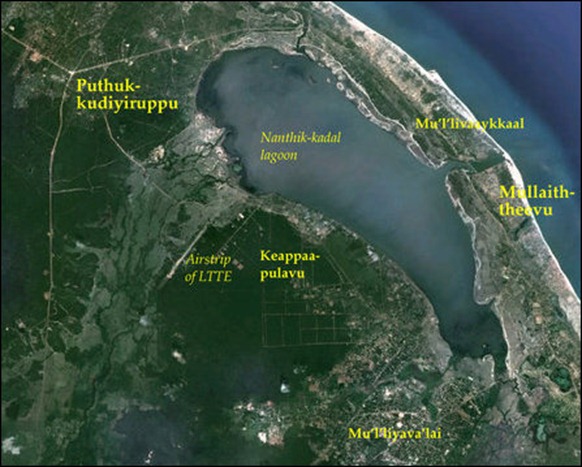 The location of fertile Keappaa-pulavu
In the meantime, the newly installed genocidal commander of the Sri Lanka Army, who has been trained and awarded by the US military Establishment in 2012, is planning to seize further lands owned by Tamils who are yet to resettle in their lands and provide these lands to those demanding resettlement in their own villages in the former 'High Security Zone' in Valikaamam North, that has been seized by the SL military which is transforming the resourceful lands into a Sinhala Military Zone (SMZ).
As reported earlier in January, the SL military has been constructing an arch on Palaali Road, which will be the future entrance to the SMZ.
After the photo was released, the SL military has silently removed the notice board at the locality, people from Vasaavi'laan told TamilNet.
(For updates you can share with your friends, follow TNN on Facebook and Twitter )