A section of Jaffna Municipality Council (JMC) workers, who have been employed at the JMC for several years, protested on Monday demanding permanent employment as promised by the JMC and the colonial SL governor of North. The protesters gathered in front of the secretariat of the colonial governor Major Genral (retd) GA Chandrasiri as SL minister Douglas Devananda of the EPDP had recently threatened to deploy SL soldiers to take over their work if they continued to protest demanding permanent jobs at the JMC.
While the ruling UPFA government of Mahinda Rajapaksa was not prepared to heed the requests of the workers it had employed at the JMC, which is run by Douglas Devananda's EPDP, the SL presidential sibling and Defence Secretary Gotabhaya Rajapaksa was waging a fresh deceptive campaign of recruiting Tamil men and women in Jaffna into subservient works in the occupying SL military through the operatives of Selvarasa Pathmathan alias KP.
In the meantime, Douglas Devananda and his UPFA allies who attended the District Development Committee meeting held on Monday chose to ridicule the democratically elected Tamil National Alliance politicians including the councillors of the Northern Provincial Council and its Chief Minister CV Wigneswaran, civil sources in Jaffna said. The UPFA men were asking what the TNA politicians had achieved so far through the 'power' they got in the NPC.
In his mobilisation to ridicule the TNA politicians attending the DDC meeting, the SL minister had summoned all the UPFA candidates who had lost in the NPC elections, the civil sources further said.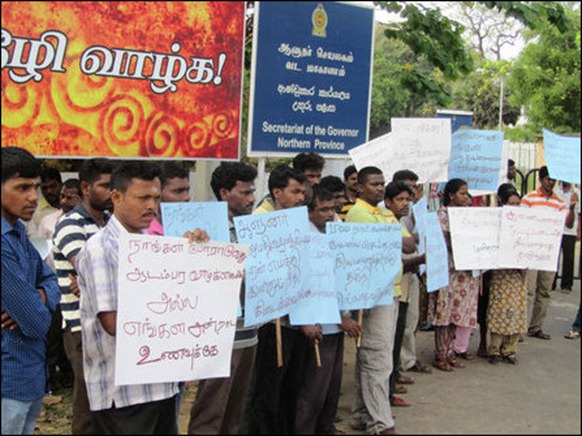 (For updates you can share with your friends, follow TNN on Facebook and Twitter )