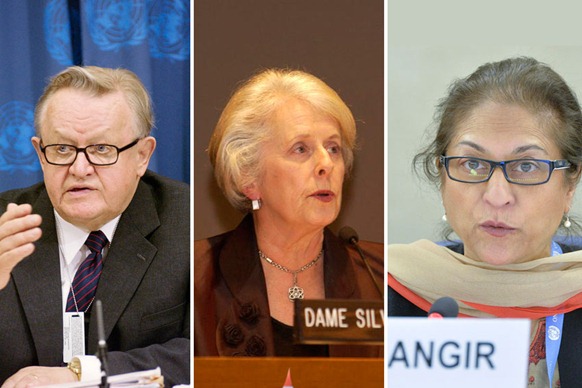 Three distinguished experts have agreed to advise the United Nations-mandated investigation into alleged human rights violations committed during the final stages of the armed conflict in Sri Lanka.
The experts are former Finnish President and Nobel Peace Prize laureate Martti Ahtisaari, former Governor-General and High Court judge of New Zealand Silvia Cartwright and former President of Pakistan's Human Rights Commission Asma Jahangir.
"I am proud that three such distinguished experts have agreed to assist this important and challenging investigation," said UN High Commissioner for Human Rights Navi Pillay.
"Each of them brings not only great experience and expertise, but the highest standards of integrity, independence, impartiality and objectivity to this task," she added in a news release.
The Sri Lankan Government declared victory over the rebel Liberation Tigers of Tamil Eelam (LTTE) in May 2009, after a conflict that had raged on and off for nearly three decades and killed thousands of people.
The final months of the conflict had generated concerns about alleged violations of international human rights and humanitarian law. The UN Human Rights Council, stressing the need for justice and accountability, decided in March of this year to open an investigation into the reported abuses.
According to the High Commissioner's office (OHCHR), the investigation team will consist of 12 staff, including investigators, forensics experts, a gender specialist, a legal analyst and various other staff with specialized skills. It will be operational for a period of 10 months (up to mid-April 2015).
The three experts will play a supportive and advisory role, providing advice and guidance as well as independent verification throughout the investigation.
"Once again, I encourage the Government and people of Sri Lanka to cooperate fully with this investigation which can help shed light on the truth, and advance accountability and reconciliation in Sri Lanka," Ms. Pillay said, adding that the investigation would still go ahead undeterred if such cooperation was not forthcoming.
(For updates you can share with your friends, follow TNN on Facebook and Twitter )