The Tamil student, who was arrested last Tuesday by the SL Terrorist Investigation Division (TID), has been released as protests by Sinhala, Tamil and Muslim students of the Sabaragamuwa University gained momentum on Friday. However, another Tamil student of the same university has been arrested and subjected to interrogation at the notorious 4th Floor in Colombo. The students of the Sabaragamuwa University have termed the harassment of Tamil students as State Terrorism in their protest. Sutharsan from Mukamalaai, Ki'linochchi, was arrested while he was recovering from an injury.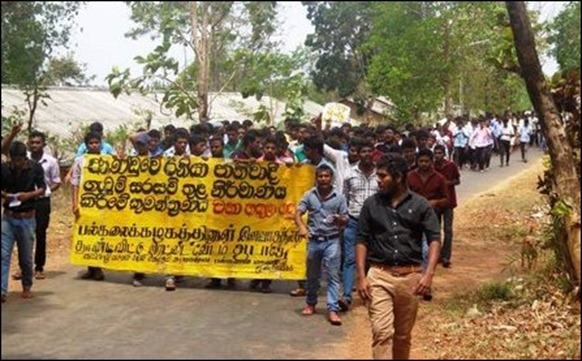 The Sinhala student leaders at the Sabaragamuwa University interpret the terror unleashed on Eezham Tamil students from Vanni attending the Faculty of Social Sciences and Languages as a sabotage by the SL State apparatus to incite racial hatred among Sinhala students against the Tamils to divert the focus of Sinhala students away from other political issues in South.
"Mahinda Rajapaksa thinks that the political awareness among the Sinhala students is counter-productive to their future interest. His future interest is getting his son crowned as president forever. To divert the students away from the burning issues, a systematic programme of inciting hatred against Tamils is being deployed in the South. His regime is trying to repeat what the other regimes did in the past whenever their grip on power was threatened," told a Sinhala student leader when questioned to explain what he meant as State Terrorism.
The SL military apparatus was behind a brutal attack on a Tamil student and the anonymous posters against the Tamil students from North, the student representative further said.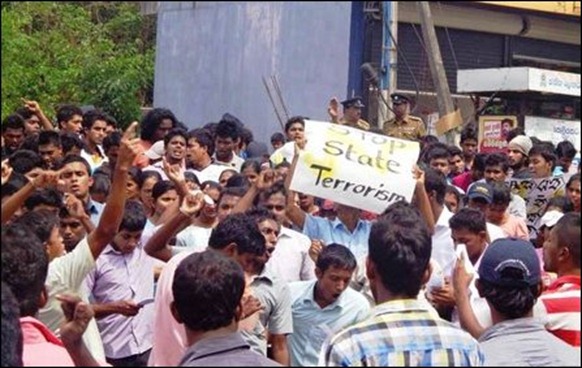 [Full Coverage]
(For updates you can share with your friends, follow TNN on Facebook and Twitter )