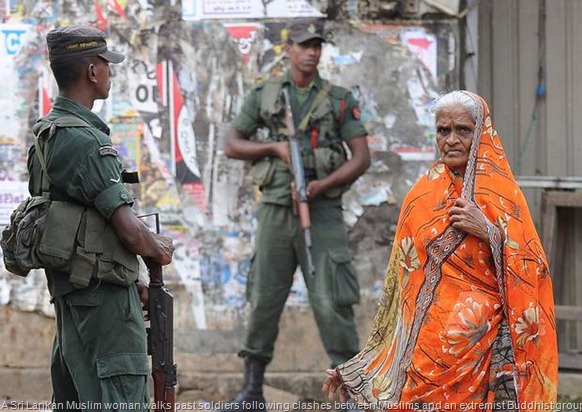 With all the horrors taking place in Gaza, Ukraine, Iraq, and Syria, Sri Lanka has understandably fallen off the international radar. However, what you must know is that this suits Sri Lanka's President, Mahinda Rajapaksa, just fine.
Yet the brutal methods he has used to defeat the Tamil Tigers — which ignore the cost of civilian casualties and frequently trample on human rights — are very similar to the ones used by those currently fighting in the spotlight. They are even being admired from afar: within the last two months army and police officers in Nigeria and Pakistan have expressed interest in learning from Sri Lanka's example.
When the Commonwealth Heads of Government Meeting was held in Sri Lanka last November, it brought much unwelcome publicity, and led to an international investigation of war crimes being set up by the UN Human Rights Council. That decision was obviously a victory for the government's critics. Yet the government behaved almost as if that was what it wanted, making a series of overt and heavy-handed attempts to silence dissent at home even while the Council was in session in Geneva.
In particular, at least 60 Tamils, mainly women, were arrested in and around the northern town of Kilinochchi, which had been the Tigers' de facto capital during the war. Two well-known Catholic activists, Ruki Fernando and Father Praveen Mahesan, went to investigate these arrests, and were themselves arrested as part of a massive security clampdown.
This led to a significant but brief international outcry: brief because Fernando and Mahesan were released unharmed after two days, followed by many (but not all) of the other detainees. Two days later, however, both were banned from leaving the country or speaking to the media. They were also forced to hand over their mobile phones and personal computers, and Fernando was roughly confronted by armed police in a Colombo street.
This time there was no international outcry, indeed no publicity at all, because friends of the pair were afraid any public move might put them in greater danger. Nor has there been any sustained campaign on behalf of the other Tamil detainees.
One of these detainees is Mrs Jeyakumari Balendran. She gained prominence after demanding information about her son — one of many Tamils who have "disappeared" since the end of the war. He is presumed to be in government custody, or dead. Eyewitnesses say Balendran was slapped and beaten during her arrest, while her 13-year-old daughter was taken away and placed in an orphanage.
Balendran and at least 20 other women are still held in Boosa detention centre, a place notorious for torture. (Under the terms of Sri Lanka's Prevention of Terrorism act, suspects can be detained without evidence for up to 18 months.) Yet the world has been given the impression that things are not as bad as was feared, and has turned its attention to more dramatic crises elsewhere.
The government claimed all these arrests were in response to an attempt to revive the Tigers and re-start the war, led by a man known as "Gobi", whom Balendran was allegedly sheltering in her house, and who was later tracked down and killed. But it has yet to produce any evidence for this, and it has put out so many different versions of the story that some observers question whether "Gobi" even existed.
In a paper released on Saturday Fred Carver, Director of the Sri Lanka Campaign for Peace and Justice, argues that these actions cannot have been separate initiatives, but together form a strategy aimed at intimidating anyone who might give evidence to the international investigation.
Just last week a gathering of family members of the disappeared in Colombo was disrupted by a mob of government supporters. The police seemed unwilling to prevent the mob, led by Buddhist monks, from dispersing the meeting, even though several American and European embassy staff were present.
It may have gone unnoticed by the rest of the world, but within Sri Lanka the message has been received clearly and chillingly: while a fuss may be made about a well-connected Sinhalese activist, the government can do what it likes to the Tamil population in the north and no one will lift a finger.
Edward Mortimer is a former Director of Communications for UN Secretary-General Kofi Annan, now chairs the Sri Lanka Campaign for Peace and Justice
(For updates you can share with your friends, follow TNN on Facebook and Twitter )