Sinnathurai Varatharajan, a popular teacher of economics, who stood with his people throughout his life, has passed away in Jaffna on Monday due to cancer-related complications at the age of 63. With his extensive knowledge on the economic potentials in the Tamil homeland, both in the North and East, Mr Varatharajan paid a particular attention to the demographic genocide being committed against the Eezham Tamils in the North and East. Apart from serving his people as an educationalist, Mr Varatharajan stepped in as a grassroots civil activist whenever his people faced a challenging time under outside occupations. Eezham Tamils are a distinct nation with their own sovereignty in the unified North and East of the island was his political stand and he advocated a confederal model as the minimum acceptable solution.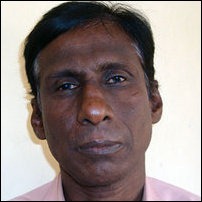 Mr Varatharajan, who was a lecturer in Economics at the University of Peradeniya, left Kandy following the Sri Lankan State-sponsored anti-Tamil pogrom in 1983 and decided to serve Eezham Tamil students in their own country. He became a popular tutor in Economics among the students in Jaffna.
During the Indian occupation in the late 1980s, Mr Varatharajan was one of the key civil activists who mobilized the civil society in Jaffna defending the Eezham Tamils from the injustices committed by the so-called Indian Peace Keeping Force (IPKF) and its paramilitary forces. Mr Varatharajan courageously organized the funeral when one of the well-respected educationalists and fellow lecturer in Economics Mr Krishnananthan was assassinated by the IPKF-backed EPRLF paramilitary during the Indian occupation in 1989. Later, he was also arrested and harassed by the Indian forces.
As an academic who paid a keen interest in documenting and exposing the on-going structural genocide against Eezham Tamils, Mr Varatharajan faced continuous threat from the intelligence Establishment of the Sri Lankan military. In 2008, he survived an abduction by the Sri Lankan forces in Colombo. Amidst the threats and harassments, he chose to serve his people till his last breath.
In 2010, when TNA's former MP and the leader of All Ceylon Tamil Congress (ACTC) Mr Gajendrakumar Ponnambalam, former TNA MP Selvarajah Kajendren and former TNA MP Pathmini Sithamparanathan, quitted the TNA and formed the Tamil National Peoples Front, Mr Varatharajan came forward backing the new formation and became the chief candidate of the ACTC in Jaffna in the parliamentary elections at that time.
Later, he retired from politics and was occupied with documenting the demographic genocide on Eezham Tamils till his demise.
Varatharajan was born on 07 December 1951. His native village is Oorezhu. He passed away on 18 August, 2014 at Thellippazhai hospital.
The funeral of the veteran educationalist and Tamil activist will take place at Koampaiyan-ma'nal Crematorium on Wednesday.
(For updates you can share with your friends, follow TNN on Facebook and Twitter )