Since 2011, more than 1,200 Sinhala families have been brought into the Batticaloa district within the bordering areas of Ampaa'rai district, say Tamil National Alliance (TNA) politicians who have taken a fact-finding mission to Mayilantha-madu and Periya-maathava'nai on Friday. Thousands of acres of grazing lands allocated for farmers from Batticaloa have been seized by the occupying Sri Lankan military and its so-called 'homeguards' paramilitary. The Sinhala colonists are doing agriculture in the occupied lands.
The Tamil farmers, who have been using the allocated grazing lands for decades are being chased away whenever they bring their cattle for grazing.
The encroachers are also capturing the cattle of the Tamil farmers, who are from Chengkaladi, Chiththaa'ndi, Vanthaa'ru-moolai, Mu'rakkoddaagn-cheanai, Koarakalli-madu , Chanthi-ve'li and Kiraan of Batticaloa district.
The Tamil dairy farmers have been severely affected by the new form of genocidal landgrab taking place in Batticaloa district.
TNA parliamentarian Seenithamby Yogeswaran and councillors in the Eastern Provincial Council K. Thurairasasingham and M. Nadarasa witnessed the Sinhala colonisation and talked to the affected Tamil farmers.
Sri Lanka Army soldiers were monitoring the interactions between the Tamil farmers and the TNA politicians.
The TNA delegation also talked to the commander of the SLA camp at Tharavai Camp on the safety of Tamil farmers and their cattle.
The TNA delegation has promised to take up the issue in the District Development Council meeting scheduled to take place on Monday.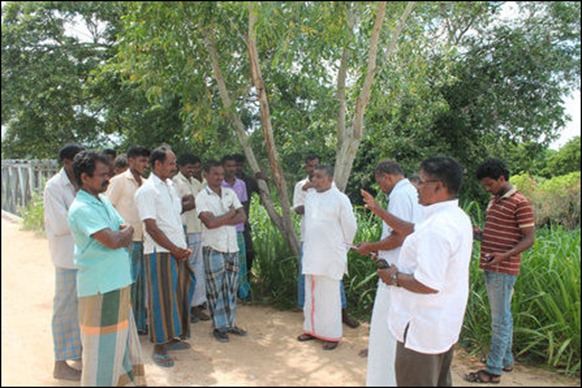 Tamil National Alliance (TNA) Parliamentarian Seenithamby Yogeswaran and Eastern Provincial Councillors K. Thurairajasingham and M. Nadarasa met with Tamil farmers affected by land grab by Sinhalese in Batticaloa
(For updates you can share with your friends, follow TNN on Facebook and Twitter )