Sri Lankan military, which usually threatens people against taking part in civil protests in advance, has now went a step further with staging 'counter protests' to disturb the democratic mobilisation of the people, trade unions and activists. On Monday, the occupying Sri Lanka Army deployed its operatives to stage a 'counter protest' in front of the Jaffna Central Bus stand where Tamil teachers in Jaffna, organized under the Ceylon Teachers Union were protesting with 15 demands against appointments with low-wage, discrimination in promotions, SL military interference in the administration of the schools in North and East, circulars in Sinhala, continued occupation of Palaali Teachers training college, discrimination in transfer policy and continued ignorance of complaints filed against corruption.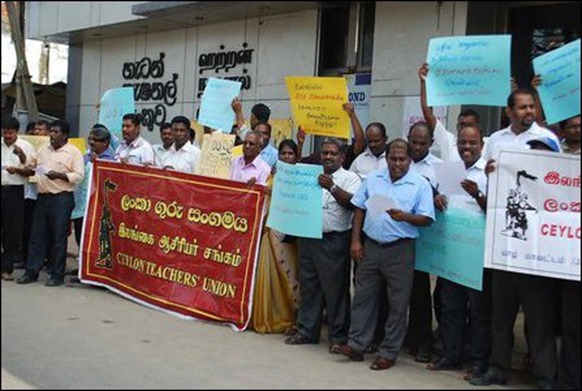 Protest by CTU in Jaffna
The protest was organised on the occasion of the International Day of Teachers.
The General Secretary of Ceylon Teachers Union, Mr Joseph Stalin, in his address explained how the SL military was interfering in the civil affairs of the schools through the militarised administration under the Governor of North, Maj Gen (retd) G.A. Chandrasri who is the former military commander of the Sri Lankan forces in Jaffna and through the paramilitary and EPDP leader Douglas Devananda. He said the Ceylon Teachers Union condemned the continued closure of Teachers Training College in Palaali, which is still occupied under the so-called High Security Zone of the SL military in Valikaamam North.
The principals of the schools are unable to ensure the independency of the school system as the SL military is interfering in the day-to-day activities of the schools in the North and East, he further said.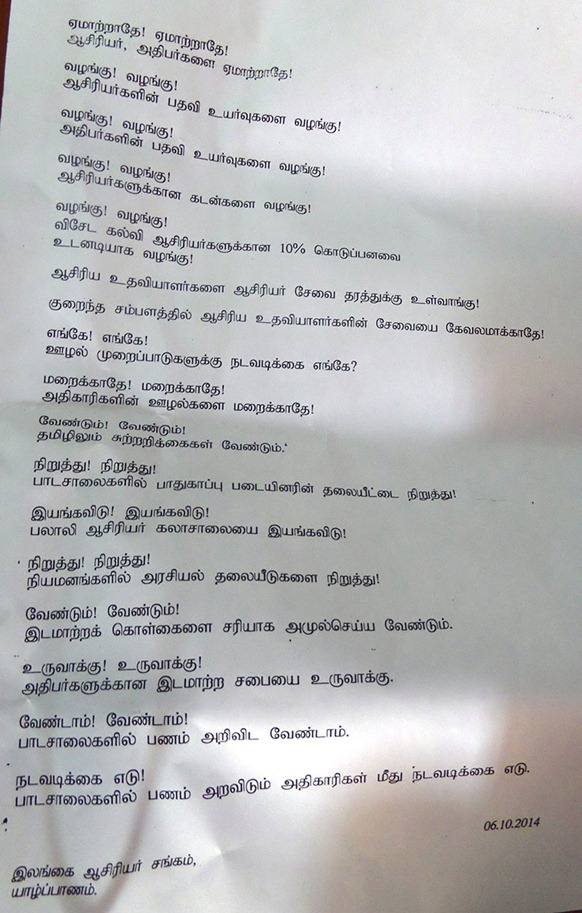 The 15 demands of the teachers union had already been handed over to the Education Ministry of the Colombo government and to the provincial education ministry of the NPC, Mr Stalin further said.
Tamil National Alliance (TNA) councillors Ananthy Sasitharan, B. Gajatheepan and Tamil National Peoples Front (TNPF) leaders Gajendrakumar Ponnambalam and Kajendren Selvarajah took part in the protest.
SL military operatives who came in two three-wheelers staged the counter-protest carrying slogans against the protest by the Ceylon Teachers Union. The squad was attempting to instigate verbal abuse. When a protesting teacher asked a squad member to explain the slogan he was holding, he had no idea of the content in the placard.
Despite the harassment by the squad, the Ceylon Teachers Union staged the protest from 2:15 p.m. to 3:30 p.m.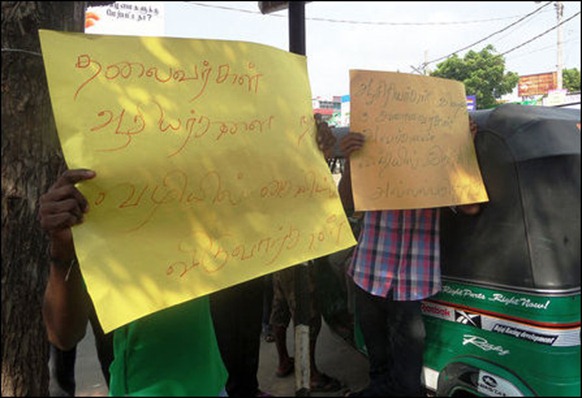 The protesting squad deployed by the SL military agains the protest by the teachers in Jaffna
(For updates you can share with your friends, follow TNN on Facebook and Twitter )