While the Citizen Committee of Vavuniyaa has been preparing for a protest against the prolonged detention of the Tamil activist Ms Jeyakumari and all other Eezham Tamil political prisoners on Friday, an attack squad operated by the Sri Lankan military has targeted the 61-year-old chairman of the Committee, Mr Krishnapillai Thevarasa, on Wednesday night. A 4-member squad that followed Mr Thevarasa while he was returning home after attending a preparatory meeting at Vavuniyaa, blocked him near the Sri Lankan military camp at Nedungkea'ni and brutally attacked him using iron rods and batons. The attack comes 5 days before SL president Mahinda Rajapaksa's visit to North.
The attacking squad that chased Mr Thevarasa in two motorbikes attempted to kill him by burning him together with his motorbike in the paddy field nearby the camp, the chairman of the Citizen's Committee said. He was rushed to Nedungkea'ni hospital with injuries and later transferred to Vavuniyaa hospital. Nedungkea'ni, the home village of Mr Thevarasa, is situated 30 km away from Vavuniyaa town.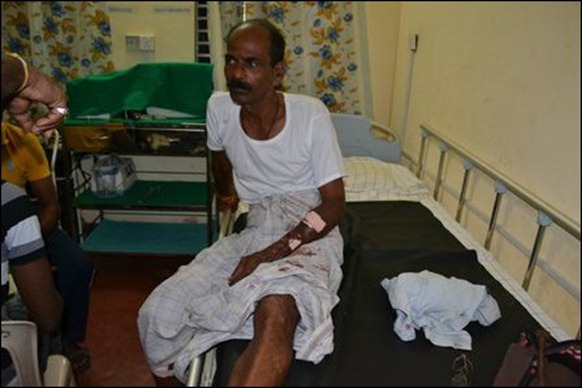 Vavuniyaa Citizens' Committee Chairman Krishnapillai Thevarasa admitted at hospital
Mr Thevarasa has been a key person in mobilising Eezham Tamil rights activists in Vavuniyaa district and he has been subjected to death threats in recent times by the SL military intelligence. He has been instrumental in organising demonstrations demanding the release of Tamil detainees in Sri Lankan prisons.
Vavuniyaa Citizens Committee has been working closely with citizen committees in Mannaar and Mullaiththeevu districts in voicing for the rights of the kith and kin of the missing persons in Vanni.
On 21 September, a 33-year-old journalist from Paranthan, Sinnarasa Siventhiran, narrowly escaped from a killer squad that intended to kill him by throwing him in front of a vehicle on A9 Road in Ki'linochchi district.
(For updates you can share with your friends, follow TNN on Facebook and Twitter )