As Hindutva New Delhi's partnership with genocidal Sri Lanka gathers momentum and reaches a stage of jointly aiming intimidation and destabilisation of Tamil Nadu, Colombo's high court on Thursday delivered death sentence to five Tamil Nadu fishermen arrested in 2011 on charges of smuggling drugs, political observers in Chennai said. Following the sentence, widespread protests engulf Tamil Nadu, where Tamil fishermen face decades-long arrests, attacks, loss of property and death in the hands of the Navy of genocidal Sri Lanka. While death sentence itself is universally controversial, the government, law-enforcement agencies and judiciary in the genocidal State themselves don't have any credibility at all, the observers further said.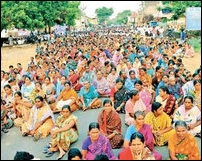 Earlier in October, Tamil journalists who went to participate in a media workshop in Colombo said that Colombo's military intelligence tried to book them on drugs charges by attempting to plant a small packet of narcotics in one of their vehicles.
In 2011, a Wikileaks document classified by the US Ambassador in Colombo, Ms. Butenis, said that drugs traded through Sri Lanka used to go to the Maldives, and the chief of the patrons of the drug kingpins in Sri Lanka was the Labour Minister of the Rajapaksa regime, Mervyn Silva.
Ms. Butenis was citing the arrest of a Maldivian woman and her Sri Lankan husband with 9 kilos of heroin.
Citing the capture of another bulk of 30 kilos of heroin in Mannaar that probably came from India, Ms. Butenis said in the cable "The sheer volume of the bust indicates the heroin is bound for a "big time dealer" in the country before being forwarded to other destinations, perhaps the Maldives or Europe.
However, narcotics and piracy has become a smokescreen for New Delhi and Colombo in deploying and sustaining a militarised genocidal experiment in the country and waters of unarmed Eezham Tamils. Silencing Tamil Nadu by hook or by crook has become the foremost requirement of the two partners, political observers in Chennai further said.
* * *
The Tamil Nadu fishermen given death sentence were P. Emerson, P. Augustus, R. Wilson, K. Prasath, and J. Lanklet from Rameswaram according to sources from the Indian consulate in Jaffna.
Responding to the sentence, violent protests erupted in Ramanthapuram district in Tamil Nadu. Fishermen engaged in road blocks along the Rameshwaram-Madurai corridor. Two buses were set on fire and many buses belonging to the government were pelted with stones in Cuddalore and Kanyakumari district.
Furthermore Sesujaja from the the Rameshwaram Fishermen association stated that Tamil Nadu fishermen languishing in Colombo's prisons are staging a fasting campaign since October 28, demanding their release along with their boats.
Meanwhile, railway tracks connecting Ramanathapuram and Rameshwaram were damaged in protests by people in the southern districts. Effigies of Mahinda rajapakse were also set ablaze in several places.
In a letter to Modi , the chief minister of Tamil Nadu, Panneerselvam said "Failure to take immediate decisive action in this case and justice for the fishermen will greatly inflame the already bruised emotion of Tamil Nadu."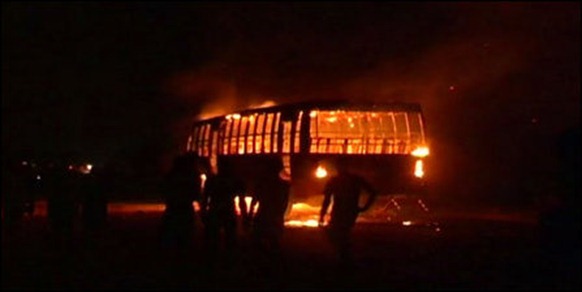 (For updates you can share with your friends, follow TNN on Facebook and Twitter )