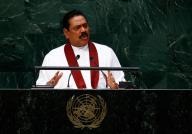 Sri Lanka President Mahinda Rajapaksa has asked the Supreme Court to determine if there is any constitutional obstacle to his becoming president for a third term, something the top lawyers' association says he can not do.
Rajapaksa and his family have a tight grip on Sri Lanka's economy and on politics which critics characterise as an unusually personalized system of government. He has also been criticised over human rights standards.
The government has said it will hold an early election amid some indications its popularity is fading but to secure another term as president Rajapaksa must ensure the constitutional path is clear.
Rajapaksa abolished a two-term presidential limit in 2010 but the Bar Association says the limit still applies to him as the amendment was brought in during his second term, after he won under the provisions of the earlier constitution.
The Supreme Court said on Wednesday Rajapaksa had asked if he could proclaim his intention to seek another term when he completes the fourth year of his second six-year term on Nov. 19, the court's registrar said in a letter to the Bar Association.
He has also asked the Supreme Court to determine if there was any impediment to him being elected for another term, the registrar said in the letter, a copy of which was seen by Reuters.
The registrar, M.M. Jayasekera, told the Bar Association to inform its member of the president's request, and if they had any points to make, they should submit them in writing.
(For updates you can share with your friends, follow TNN on Facebook and Twitter )