Professor V. Sivasamy, retired professor of Sanskrit of the University of Jaffna and was teaching until recently at the university, passed away in Jaffna on Saturday at the age of 81. As a multifaceted scholar in Sanskrit, Tamil, History, Archaeology, Epigraphy, Hindu Civilization and Fine Arts, and as a profound writer in Tamil and English, he was a silent legend in shaping the contemporary academic history of Eezham Tamils. He taught at the University of Jaffna right from its inception in 1974 to the day his physical abilities permitted him to do the job, as the university was always in need of his rare accomplishments. Thousands of students were benefited by his selfless and committed academic services and guidance. His demise marks the end of a legacy.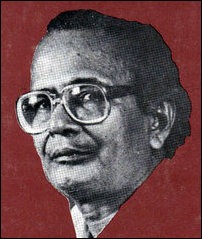 Born on 16 September 1933, at I'ruppiddi in Pungkudu-theevu, one of the islets off Jaffna Peninsula, to a  father having expertise in native medicine and astrology, Vinayakamoorthy Sivasamy had his early education in Pungkudutheevu and later studied at Jaffna College to enter the University of Ceylon in 1955 to study Sanskrit, Tamil and History.
He also had a Sanskrit honours degree from the University of London in 1961, offering Pali and History of India as optional subjects. His research degree was on Sanskrit inscriptions of India up to 5th century CE.
He was teaching at Jaffna College from 1958 to 1974, and taught for a brief period (1962-1965) at the University of Peradeniya too.
Sivasamy became one of the foundation teachers of the University of Jaffna when the Jaffna College Undergraduate Department was taken over by the Colombo regime of Srimao Bandaranayake in 1974 for the instant creation of a university.
He became the Professor of Sanskrit later, but he was also an indispensable teacher in the History and Hindu Civilization departments. The Fine Arts education in the university was the most fortunate one in getting his services and guidance as he was involved with the Ramanathan Academy of Fine Arts of the university, right from its inception.
Professor Sivasamy was the founder secretary of the Jaffna Archaeological Society in 1971 when Professor K. Indrapala, as Senior Lecturer in Peradeniya at that time, initiated the move. He was also the joint editor of Poorvakalaa, the first archaeological journal in Jaffna, along with Mr. A. Sivanesa Chelvan. He worked closely with Professor S.K. Sitrampalam. Professor Pushparatnam was a beloved student of him. Professor Sivasamy was a highly respected scholar in the professional academic circles of epigraphy, archaeology and history in Tamil Nadu too.
Writing from 1953, and known for his rigorous academic honesty and authenticity, he was touching on an amazing variety of topics. Some of his books, especially in the field of dance, would remain long as valuable texts and reference material for students learning in Tamil.
He remained a bachelor, completely committed to his academic endeavours.
(For updates you can share with your friends, follow TNN on Facebook and Twitter )