The occupying Sri Lanka Navy on Sunday arrested 14 fishermen from Tamil Nadu in the seas off Nedun-theevu (Delft). Three of them are below the age of 18, according to SL police sources. When the engine of a fishing boat had broken, other fishermen had come to the spot to help the fishermen. The SL Navy has assaulted the fishermen, including 14-year-old Dineshkumar, 17-year-old Naveen and 18-year-old Satheeskumar, sources in Nedun-theevu said.
The SL Navy has assaulted the Tamil Nadu fishermen using stones and batons, Tamil fishermen in Nedun-theevu said.
The arrested fishermen from Tamil Nadu were being detained at KKS. They would be taken to the courts on Monday, the SL police sources in Jaffna said.
10 of the detained fishermen are from Jegathaap-paddinam in Puthuk-koaddai and four are from Rameasvaram.
Already 24 fishermen from Tamil Nadu are languishing in Jaffna prison.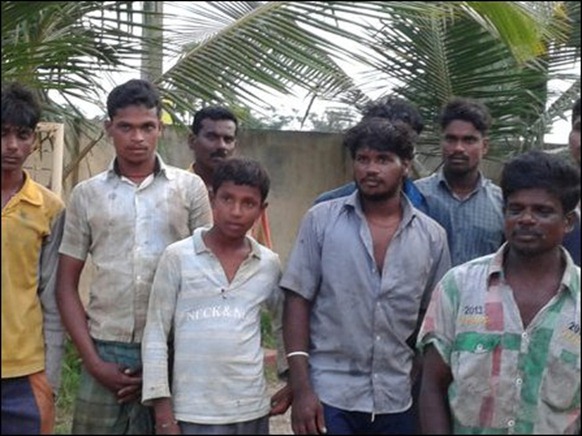 Fishermen from Tamil Nadu arrested by the SL Navy
(For updates you can share with your friends, follow TNN on Facebook and Twitter )