A District Development Council (DDC) meeting, which was co-chaired by Northern Provincial Council (NPC) Chief Minister C.V Wigneswaran and SL Minister Douglas Devananda, ended in violence at Jaffna District Secretariat on Tuesday, when the EPDP paramilitary leader Mr Devananda faced objections from the NPC councillors of the TNA for turning the DDC meeting a venue for Rajapaksa's election propaganda. The paramilitary goons of the EPDP began to assault the TNA representatives who objected the conduct of the EPDP leader at the meeting. EPDP goons assaulted five TNA members, including NPC Ministers Aingaranesan and Sathiyalingam. The EPDP has also claimed that five of its personnel had sustained injuries in the violent episode.
Justice C.V. Wigneswaran, who addressed the press after the clash said the assault was a pre-determined deliberate move on the part of the EPDP which had brought in certain personalities with the intention of causing trouble at the meeting.
The EPDP leader who has been backing the SL president Mahinda Rajapaksa was reading a four page political address criticising the TNA and the NPC.
The EPDP has also been using the DDC meetings in Ki'linochchi district to wage a propaganda assault on the TNA.
The Sri Lankan government security personnel were providing security to the EPDP, Mr Wigneswaran said. The TNA members were not provided such protection at the DCC meeting, he said.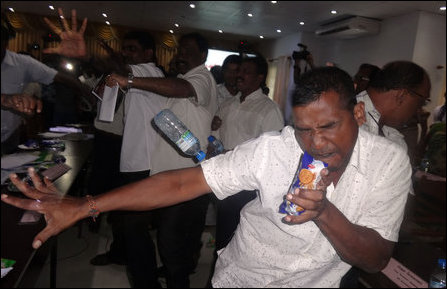 An EPDP operative deployed in assault against the TNA at the DDC meeting in Jaffna
TamilNet: 16.12.14 SL presidential race brings violence between EPDP, TNA in Jaffna
(For updates you can share with your friends, follow TNN on Facebook and Twitter )