By trapping him into a meeting with SL Minister Douglas Devananda in Jaffna last Saturday and by circulating photos of the meeting, a sinister attempt has been made to discredit his image among global Tamils, accuses leading Tamil Nadu film director P. Bharathiraja. While in Jaffna, Bharathiraja was told by the Indian High Commission over phone that an SL Minister would be visiting him, and he obliged. Addressing a function at Kiraan-ku'lam in Batticaloa on Tuesday, Bharathiraja, who was invited to the island by Akilan Foundation to meet and felicitate artists, said that he had to clarify the circumstances by which he had been duped.
"I was wondering why the minister wanted to meet me as normally people only seek meeting with ministers," Bharathiraja said.
"Mr Douglas Devananda tried to talk about the fishermen issue, but I avoided talking to him on that matter as my visit was cultural and not political," Bharathiraja further said.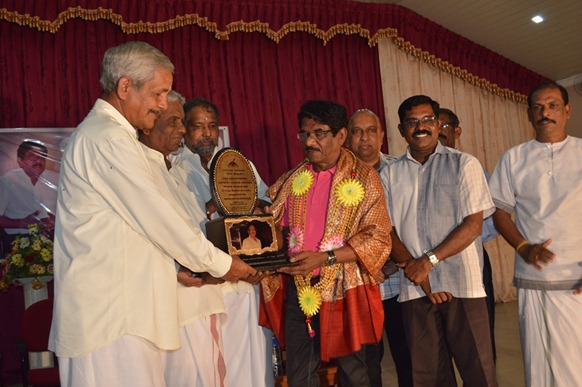 Bharathiraja was bestowed with the title 'Kiraamiyak-kalai-gnani' at the Batticaloa event
Bharathiraja's response follows a widely circulated social media campaign against his meeting with Douglas Devananda.
Diffusion and containment of Tamil Nadu uprising over the national question of Eezham Tamils is a major agenda of the New Delhi Establishment that partners the genocidal State in the island. Silencing Ms Jayalalithaa was primarily a manifestation of this agenda, political observers say.
Meanwhile, two months ago, New Delhi's intelligence-corporate outfit Observer Research Foundation condemned even the NPC Chief Minister C.V. Wigneswaran for not participating the Rajapaksa inauguration of Colombo-Jaffna railway and for not going along with Rajapaksa to meet leaders in New Delhi.
"If the TNA was serious about wanting India to get involved, it could not have let go off the two occasions for its chief minister to meet President Rajapaksa in Indian presence," wrote ORF's Sathiya Moorthy, adding that TNA was sending out confusing signals to India.
External Links:
ORF:
Sri Lanka: TNA sending out confusing signals to India?
(For updates you can share with your friends, follow TNN on Facebook and Twitter )