While SL president Mahinda Rajapaksa is almost open in telling that electing the next president is choosing between China and the USA, senior Tamil grassroot leaders and activists in the island are of the opinion that Eezham Tamils put in a situation of struggle polity need not worry who succeeds as president. "Tamils should not participate in this election. Whether the future of Tamils is linked to the Sinhalese or not has to be decided by the Sinhalese. […] The TNA leaders in their decision [of supporting Mr Sirisena] failed in guiding the Tamils in the right way," said senior ITAK Central Committee member and former UN consultant Ma'ravan-pulavu K. Sachithananthan, speaking to media in Jaffna on Saturday. The former Jaffna University academic was addressing along with Ananthy Sasitharan of the NPC and ITAK Youth Wing Leader VS Sivakaran.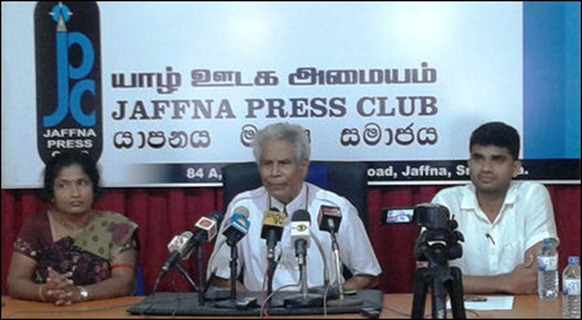 Talking to media on the sidelines of the press conference, Mr Sivakaran said that the group representing the TNA leadership was going after USA and India and has failed to take its own stand on the presidential election.
Mr Sivakaran was addressing the journalists in Jaffna on the lack of internal democracy in making the crucial decisions of the ITAK Central Committee. After several attempts to course-correct the problem at the internal meetings, the youth wing leader was forced to bring the facts to the media, he said. Ms Ananthy was an eyewitness to the internal discussions, he said, giving a detailed account of the issue. He also gave a written statement to media in Tamil.
Ms Ananthy Sasitharan, who also issued a written statement by email to TamilNet, was explaining her stance with regards to the suppression of her opinion by the TNA hierarchy.
Meanwhile, adding to the stand of the election boycott opinion, Tamil activists for alternative politics in the island said that choosing between China and the USA has to be left to the Sinhala Nation. Tamils should not be blamed and penalised by the Sinhala Nation for the choice. The very predicament of China coming into the picture of 'choice' is a manifestation of the policies of the USA and India that allowed a genocidal war in the island, the activists said.
In the entire history of Indian foreign policy after Mrs Indira Gandhi's time, the one and only 'firm' foreign policy decision taken by New Delhi was on facilitating the genocide of Eezham Tamils. Now, without any answer to the genocide and national question of Eezham Tamils, both the USA and India are keen only in 'regime' to their favour in Colombo. Therefore, what remains to Eezham Tamils is their struggle polity and this polity need not worry about the presidential 'choice'. Whoever comes, the struggle would continue unless the fundamentals are resolved, should be the message the struggle polity should convey with confidence, the activists further said.
PDF: Statement by Ananthy Sasitharan
(For updates you can share with your friends, follow TNN on Facebook and Twitter )