Five killed as Sri Lanka troops close in on rebel town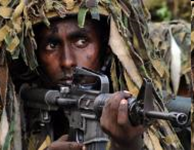 At least five Tamil Tiger rebels were killed in fresh fighting in northern Sri Lanka where security forces are closing in on the rebels' political capital, the defence ministry said Tuesday.
Clashes took place across several fronts on Monday, inflicting "maximum damages" on the rebels, the ministry said, without saying if its own troops suffered casualties.
The five rebels were killed in the district of Mullaittivu, which borders Kilinochchi, the ministry said.
The Liberation Tigers of Tamil Eelam (LTTE) did not comment on the military statement, but accused the army of setting off a roadside mine in Mullaittivu on Monday, killing three people.
"Three civilians including a mother and her nine-year-old child were killed when a Claymore attack of the army hit the motorbike the three were travelling on," the LTTE said in an e-mail on Tuesday.
The attacks came as troops fought on the outskirts of Kilinochchi, where the LTTE maintains its political base.
(For updates you can share with your friends, follow TNN on Facebook, Twitter and Google+)