Lankan troops set to take Periya Paranthan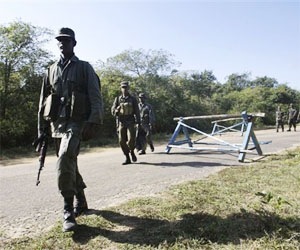 Overcoming stiff resistance from the Liberation Tigers of Tamil Eelam, Task Force I of the Sri Lankan army was on Monday poised to take the village of Periya Paranthan, four kilometres from the garrison town of Paranthan in north Sri Lanka.
The capture of Periya Paranthan is expected to pave the way for the take over of Paranthan town itself. From Paranthan, the Sri Lankan army could either go northwards to capture Elephant Pass or come head south to take Kilinochchi, which is the main guerilla bastion in the central Wanni region.
On Saturday, the army had taken Nalanavankulam village, including its fortified earth bund defences built by the LTTE. In another significant development, troops of Task Force II, marching from Nainamadu, along the Puliyankulam-Nedunkerni road, linked up with the men of the 59 Division, operating in the Nedunkerni area in Mullaitivu district. The link up had taken place 800 metres from Nedunkerni town, the Ministry of Defence said.
Saturday saw heavy fighting in the Nandikadal lagoon area in Mullaitivu district, with the LTTE putting up stiff resistance. The Defence Ministry reported that five army men went missing during this battle. The Sri Lankan army's main movement in this region is along the Oddusuddan-Mullaitivu road, and the Alampil-Mullaitivu road. Earlier on December 26, troops of the 59 Division had taken the key villages of Mulliyawalai and Tanniyuttu, thus directly and immediately threatening the LTTE's easternmost base at Mullaitivu town.
The army has handed over to the International Committee of the Red Cross, eight bodies of LTTE cadre who had fallen in the battles in the Paranthan region. Four of the bodies were of female fighters.
HIGH ARMY CASUALTIES
Tamil websites quoted the LTTE as saying that 68 Lankan soldiers were killed and 95 were injured after the LTTE stalled an army offensive in Mullaitivu district on Saturday. The LTTE said that the offensive, supported by an artillery and Multi-Barrel Rocket Launcher (MBRL ) bombardment, began at 5.30 am. But by 1 pm, it had been halted. The Tigers had recovered the bodies of 16 soldiers.
The Tigers also claimed to have halted an army offensive at Uduppukulam in the same district. Eighteen soldiers were killed in the offensive which began at 9.30 am and ended at 12.30 pm, www.puthinam.com said.
Lankan troops set to take Periya Paranthan
(For updates you can share with your friends, follow TNN on Facebook, Twitter and Google+)