Explore federal set-up for Sri Lanka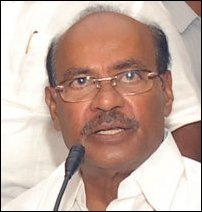 The establishment of a federal structure in Sri Lanka is among the options that can be discussed across the negotiating table between the Sri Lankan government and the Liberation Tigers of Tamil Eelam (LTTE), according to Pattali Makkal Katchi founder S. Ramadoss.
Ensure ceasefire
In an interview with The Hindu on Tuesday, Dr. Ramadoss recalled that the LTTE once supported the idea of a federal model when Anton S. Balasingham was the organisation's theoretician and political adviser. "However, there should be ceasefire first for the idea to be discussed again. And, the Indian government should take steps towards this direction."
Emphasising that any solution to the ethnic crisis had to be found by including the LTTE in the entire process, the PMK leader said it would be foolish to conclude that the settlement could be worked out after destroying the LTTE. "Be it the option of an autonomous Tamil homeland or something else, this had to be arrived at by the Sri Lankan government and the LTTE through talks with candour."
Praise for Ranil
He was all praise for the efforts made by the former Sri Lankan Prime Minister, Ranil Wickremasinghe, to sort out the issue. Unfortunately, Mr. Wickremasinghe did not remain in power for long, the PMK leader noted. Leaders of Sri Lanka should realise that their nation was multi-religious, multi-ethnic and multi-cultural and they should keep in mind this aspect while attempting to solve the ethnic problem.
Asked whether the LTTE could be trusted after the assassination of the former Indian Prime Minister, Rajiv Gandhi, in 1991, Dr. Ramadoss pointed to the initiative taken by Norway to resolve the Sri Lankan Tamils issue and said the Norwegian team held talks with the LTTE, which was seen as "the representative of Sri Lankan Tamils." He added that the LTTE had expressed regret for Rajiv Gandhi's assassination.
Dismay over attitude
Expressing dismay over the Central government's attitude on the ethnic question, Dr. Ramadoss said "the present rulers do not possess the spirit displayed by Rajiv Gandhi when he was Prime Minister [in the 1980s]." He wanted the Central government to regard the issue as one concerning legitimate rights of Tamils in the island-nation, not from the angle of terrorism.
Though the Indian government had, from time to time, been saying that it was for a negotiated settlement and there had been no change in its policy on the issue, its words were not followed by deeds, the PMK leader said.
He was of the view that Prime Minister Manmohan Singh and Congress president Sonia Gandhi had not been adequately briefed of the gravity of the problem. To a query why was this so, he replied that "a few officers are determining the entire policy."
(For updates you can share with your friends, follow TNN on Facebook, Twitter and Google+)