Indian Naval Personnel to Mullaiththeevu: Thirumavalavan lambasts New Delhi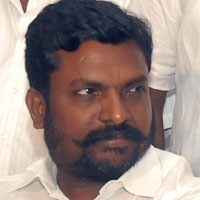 Thirumavalavan, a Tamil nationalist leader and the president of Viduthalai Chiruthaigal Katchi (VCK) in Tamil Nadu, on Monday condemned the Indian Government for "betraying the entire Tamil people" by sending civil clothed Indian naval personnel to Mullaiththeevu through the Chennai international airport. Addressing the media in Chennai, he said that New Delhi was "totally responsible" for the "ruthless genocide" of Tamils in Sri Lanka. "Even the future generations of Tamils will never forgive the Indian Government for disrespecting the sentiments of 100 million Tamil people," he warned.
Recalling Tamil Nadu Chief Minister M. Karunanidhi's meeting with Manmohan Singh, the Indian Prime Minister on December 4, 2008, Thirumavalavan remarked: Even a month after this visit the Union Government of India is yet to pay heed to the Tamil demand that the war in the island should be immediately stopped. On the other hand, Indian naval personnel have left for Mullaiththeevu via the Chennai international airport. This is a complete treachery to the worldwide Tamil population.
"Under the pretext of annihilating the Tigers, the three armed forces of Sri Lanka are directly pressed into action to kill the Tamil people," he observed. Commenting on the occupation of Ki'linochchi, Mr. Thirumavalavan pointed out that as far as the LTTE is concerned, it is merely a tactical withdrawal and not a defeat per se. This has occurred several times before and the Tigers have employed techniques to wrest control of the area and have successfully driven out the Sinhalese army in the past, he said.
Thirumavalavan also attributed the "victory" of the Sri Lankan armed forces to the military and strategic help extended by various nations across the globe. He held the Indian Government's betrayal of the Tamils as the sole reason for the the cheery, upbeat mood and celebrations among the Sinhalese following the "capture" of Ki'linochchi.
The VCK leader also requested the ruling DMK Government to come to a "courageous decision" after deep thought about the Eelam issue.
In a move that could have widespread political ramifications, especially where the Eelam issue was concerned, Thirumavalavan pointed out that his party was taking efforts to forge a common alliance among the pro-Tamil forces cutting across party lines. He is slated to meet MDMK General Secretary Vaiko, Dravidar Kazhagam President Dr K Veeramani, and Tamil Nationalist Movement leader Nedumaran to seek their cooperation and support.
According to sources in Chennai, Thirumavalavan met Dr S Ramadoss, founder-leader of the Pattali Makkal Katchi on Monday in this regard.
(For updates you can share with your friends, follow TNN on Facebook, Twitter and Google+)