Sri Lanka military launches air strikes against retreating rebels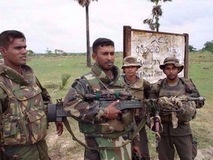 Sri Lanka's military have launched air attacks against the last remaining jungle hideouts of Tamil Tiger rebels after driving them out of their main strongholds, according to officials.
Helicopter gunships supported ground troops advancing deeper into the Mullaittivu region, where the retreating Liberation Tigers of Tamil Eelam (LTTE) forces are holed up, a military official said.
The defence ministry has said the security forces are ready to deal a "decisive blow" to the rebels after the capture of the strategic Elephant Pass on Friday.
Losing control of the pass was the latest in a series of defeats for the Tamil Tigers, who have been fighting since 1972 for a separate homeland.
Their main political headquarters of Kilinochchi was overrun by government troops earlier this month and the rebels are now confined to the jungle and lagoon district around Mullaittivu town on Sri Lanka's northeast coast.
The leader of the Tiger rebels, Velupillai Prabhakaran, vowed in a radio broadcast late last year to fight on, and his guerrillas have frustrated government hopes of victory many times before.
But with the rebels appearing close to defeat, the army major general in charge of the assault on Kilinochchi said troops were now heading into the Mullaittivu jungles to "hunt down" Prabhakaran.
In the latest battlefield update, the army said it had captured airstrips from which the Tigers launched missions to bomb government targets using planes smuggled onto the island in pieces and re-assembled.
"The Sri Lankan army has so far captured four airstrips of the LTTE terrorists during the ongoing counter terrorist operations," the ministry said.
(For updates you can share with your friends, follow TNN on Facebook, Twitter and Google+)