At least 100 killed in Sri Lanka shelling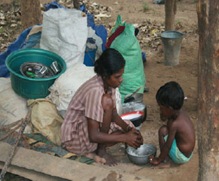 Nearly 100 civilians have been killed in artillery exchanges between Sri Lanka's military and Tamil Tigers since the weekend, a top government official working in the area controlled by the rebels said on Thursday.
The report of casualties came on a day the United Nations said the Liberation Tigers of Tamil Eelam (LTTE) had violated international law by stopping its local staff and their families from leaving the war zone in an aid convoy.
That echoed earlier complaints from human rights watchdogs that said the separatist rebels had forced civilians to stay in the war zone as human shields and forced conscripts. The rebels, on U.S., E.U. and Indian terrorist lists, deny that.
Sri Lanka's military has boxed the LTTE into an area of less than 400 square km (155 sq miles) after the most successful campaign so far in the 25-year war and is aiming to deliver a final blow to the last rebel redoubt, the port of Mullaitivu.
Aid agencies have warned that about 230,000 refugees are trapped and at risk of being caught in the crossfire.
"Around 30 people died in the morning today. Personally I saw that nearly 100 people have died from Saturday up to today. More than 300 have been injured," Mullaittivu District Government Agent Emelda Sukumar told Reuters by phone.
Getting independent confirmation of casualties in the war zone is nearly impossible.
Sukumar, who spoke from Mullaittivu, is in charge of government services including humanitarian aid in the rebel area.
The national government pays her salary, but she is under the LTTE's watch and relies on them for her safety. For that reason, the government has often said its agents are under duress and liable to publicly give a version of events favourable to the LTTE.
'CANNOT ESCAPE'
Sukumar said the army ceased fire after her office got in touch with them and the Red Cross, which arranged a convoy to ferry 46 sick and wounded people from a hospital near Mullaittivu to a government hospital in Vavuniya, far from the battle.
"When people occupy particular places, the LTTE send shells from that area, and then army also targets the same area," she said. "So people cannot escape from the shelling."
The military on Wednesday announced a 32 sq km safe zone near Mullaittivu and dropped leaflets urging civilians to go there.
On Thursday, pro-rebel website www.TamilNet.com reported that shelling had killed 66 civilians and wounded 176 in the past 60 hours in areas including the safe zone and the hospital.
Military spokesman Brigadier Udaya Nanayakkara denied that.
"Today we stopped firing and took 46 patients from that hospital through the Red Cross, so that kind of humanitarian operation is underway. We didn't fire into the safe zone because we wanted civilians to come," Nanayakkara said.
The United Nations in a statement said it had "issued its strongest possible protest to the LTTE for their refusal to allow U.N. national staff and dependents" to leave the war zone in a convoy on Thursday.
"The LTTE's denial of safe passage is a clear abrogation of their obligations under international humanitarian law," it said.
The LTTE could not be reached for comment.
(For updates you can share with your friends, follow TNN on Facebook, Twitter and Google+)