Thousands of Tamils decry Sri Lankan genocide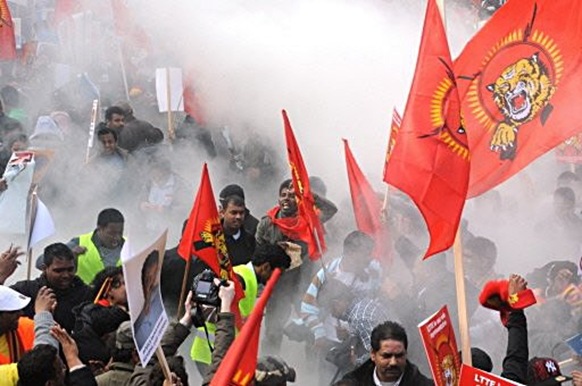 Thousands of supporters of a Tamil state protested in Brussels Monday against "genocide" by the Sri Lankan government, urging the European Union to send observers to see the situation on the ground.
"The Sri Lankan soldiers are killing 50 Tamil every day, and that is just in the so-called 'protected areas'," said Siva Ram, a Tamil protester from Paris.
Organisers put the turnout at around 30,000 although police put the figure at 5,000.
"We want to tell the world and Europe to stop the genocide in Sri Lanka," said Suveetsan Sivapula, from Germany.
The noisy protest, organised by the Tamil Youth Organisation, took place 100 metres from where EU foreign ministers were meeting in Brussels' European quarter.
Last month, the ministers called for an immediate ceasefire between the Sri Lankan security forces and Tamil Tiger rebels to allow aid in to and civilians out of the conflict zone.
Sri Lankan government forces shot dead at least 32 Tamil Tiger rebels in north-eastern Sri Lanka, the defence ministry in Colombo said Sunday, as troops moved closer to finally defeating the separatist guerrillas.
Sri Lanka's army denies targeting the "safe zone" and in turn accuses the Tigers of fabricating reports of large scale civilian deaths.
The UN believes 150,000 to 180,000 civilians remain trapped in the territory still under rebel control.
"What we want is for the European Union to send people into the 'safe zone' and see what is really happening there, not just listen to what Colombo is telling them and visiting the displacement camps," said another Tamil protester who would not give his name.
(For updates you can share with your friends, follow TNN on Facebook, Twitter and Google+)