Diaspora youth hunger strike ignites mass struggle for Eezham
The fast to death protest by Parameswaran Subramaniyan in an effort to draw the attention of the International Community to the ongoing catastrophe in Sri Lanka, has reached the 13th day on Sunday. Thousands of Tamils of all ages and all walks of life have kept pouring into the Parliament Square throughout the campaign so far, expressing their support to hunger strikers and the demands put forth by them. The hunger strike launched by Parameswaran and Sivatharsan Sivakumaravel has become a key point of confluence drawing not only the first and second generation of Tamils in UK, but also seeing the participation of the third generation of Tamils in the Eezham cause.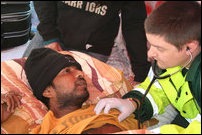 Students are endeavouring to help by attending protests as a student group, uniting to partake in an awareness week aimed at non-Tami students, where each university also held a 24 hour fast and trying to maintain a rota system to attend the ongoing protest outside Westminster. "This shows the third generation of Tamils is also continuing aims our elders have laid out for us," says Gayathirie Sooriyacumar, a dentist student born in UK.
Around 100 children of parents born in UK, participated Sunday in a solidarity event called 'Eezham through the eyes of children,' which enabled them to express themselves through paintings and artwork.
"I, together I'm sure, with other young members of the Tamil Diaspora, felt that the suffering of Tamil people in Sri Lanka seemed so far away, and so distant," Ms. Gayathirie admits. "However, after attending this protest and speaking to fellow protesters, the national liberation struggle, I now believe, I too have a responsibility to my suffering brothers and sisters."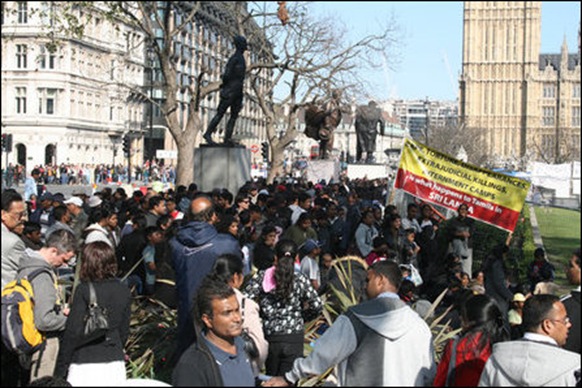 28-year-old Parameswarn Subramaniyan and 21-year-old Sivatharsan Sivakumaravel began their hunger strike in the Parliament Square on Tuesday. The campaign was started a day before on April 6. Following promises by British parliamentarians to bring the demands of the hunger strikers to the world forums of humanity, they decided to take Sivatharsan off the strike in order to enable him to accompany the parliamentarians in bringing the demands to UN and other forums. Parameswaran continued the hunger strike conceding to the requests to consume water throughout his campaign.
Though very weakened, he continues his fast despite repeated pleas to reconsider his stance by the authorities in UK. Many parliamentarians and religious leaders have kept visiting Parameswaran and inquire about his health with great concern, Tamil activists said.
Talking to TamilNet, Gayathirie says: "I see the struggle as one that has been suppressed and now is ready to burst. As I learn more and more about the struggle my people face, I am frustrated of how the rest of the world just does not know about a genocide that is happening right now in the 'beautiful country of white sandy beaches, lush greenery, where all communities live in harmony side by side, which is the image the Sri Lankan Government tries to project to the world. However, these protests aim to raise awareness of the truth and encourages the use of free media into the war stricken areas."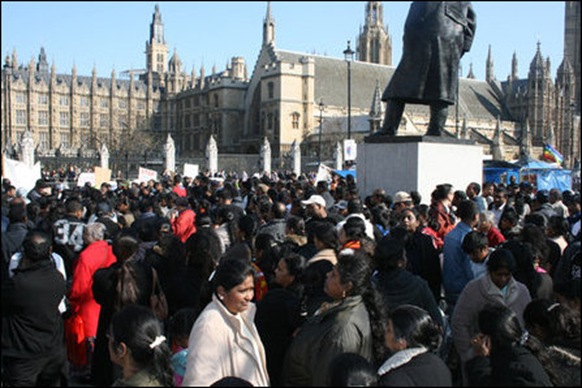 The chants and slogans continue throughout the day into the night, stopping only every 3 hours for 2 minutes in order to respect and remember those being tormented.
"This minute helps us meditate on the many innocent lives of the citizens as well as those who have sacrificed their lives in this war. The 2 minutes are ended with ' 'Thamizharin thaakam thamizh eezhath thaayakam', meaning Tamils' yearning is for Tamil Eelam."
"Although Parames Anna knows the consequences, he believes that he is now the British government's responsibility. He is determined he will die for a cause, however, I for one do not want it to be a defeat of a young life, if the intention of putting pressure of the British government to intervene in the Sri Lankan conflict, is not even heard or acted upon," Gayathirie continues.
"I support and look up to his determination, but find it difficult to watch him slip away in front of the Houses of Parliament, in the eyes of the general public and surrounding supporters, with no interference or promises made to fulfil their main requests of immediate and permanent ceasefire, food and medical aid allowed to reach the civilians and lifting the ban on LTTE."
"After hearing about recent atrocities, students throughout London have on their own accord congregated to collect ideas, discuss thoughts and opinions about the current situation. Sometimes I find it difficult to concentrate and study and also can not help wondering, if my parents had not been evacuated, would I too be tormented? My education would definitely be affected. Would I have got into university, to do a subject that interests me? Would I have even got to the age of entering university?," she asks.
"We as students want to do more, know more. We too, along with our elders fear our links with our past, our culture, and our history may slowly grow fainter as we grow older. I would not want our children to blame us, as those that sat by whilst those in power make unforgivable mistakes in history, today."
Tamil students in Coventry are to begin their token hunger strike on Monday and many other organizations in UK will engage in hunger strikes that are to continue in the coming days, the organizers of the protests said.
The demands put forward by Parameswaran follow:
Immediate and permanent ceasefire
Food and medical aid should be allowed to reach the civilians immediately with international monitoring committees and allow "Mercy Mission to Vanni"
UN Secretary General Ban Ki-moon and UK Prime Minister, Gordon Brown, arrange to meet our representatives.
Liberation Tigers of Tamil Eelam are our sole representatives and UK government should lift the ban on LTTE.
UN should call for an immediate referendum to the Tamils regarding whether they want separate nation or to remain as Sri Lanka.
(For updates you can share with your friends, follow TNN on Facebook, Twitter and Google+)