On Sri Lanka War Crimes, UN's Ban at Oxford Listed 2005 Trip for S. Korea, Now His Panel Offers Mere Video Call
"I visited Sri Lanka twice" UN Secretary General Ban Ki-moon said on February 2 at Oxford, answered a question about the UN failing to protect Tamils and failing to pursue accountability for those who ordered them killed.
Inner City Press had covered Ban's May 2009 trip to Sri Lanka, but was unaware of any other trip Ban made to the country since he became UN Secretary General. So for five days Inner City Press has asked Ban's spokesperson Martin Nesirky for the date of the second trip, without response.
On February 7 at the day's UN press briefing, Inner City Press asked Nesirky if Ban might paradoxically have been referring to a trip he made in 2005, when he did not yet work for the UN but was South Korea's foreign minister.
"I think your analysis is correct," Nesirky said, "he was referring to a trip he made when he was foreign minister."
The question still remains, what was accomplished for accountability during that trip? Some in fact tie that 2005 trip, which included a detour to President Mahinda Rajapaksa's Southern hometown of Hambantota where late a Chinese port was built with South Korea involvement, with Rajapaksa convincing Sri Lanka's candidate for Secretary General to withdraw in favor of Ban.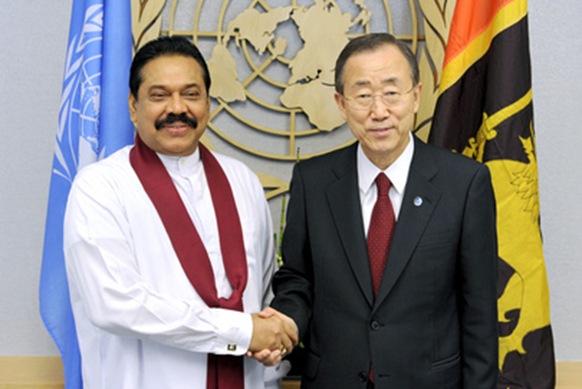 UN's Ban & M. Rajapaksa in 2010, specifics of 2005 trip not shown
Here is how media reported the 2005 trip at the time:
Lee Hae-chan, Prime Minister of the Republic of Korea will be in Sri Lanka today and tomorrow… The Prime Minister will be accompanied by a high level delegation including Ban Ki-moon, Minister of Foreign Affairs and Trade, Kang Dong-suk, Minister of Construction and Transportation and Cho Young-taek, Vice Minister for Public Policy Co-ordination in Prime Minister's Office… The relief supplies will be later distributed by the Korean NGOs operating in Sri Lanka. Together with Prime Minister Rajapakse, Prime Minister Hae-chan will travel along the western coast to have a first-hand view of the destruction to lives, livelihoods and property and will make a stop-over in Hambantota.
How is referring to this trip an answer to this question, asked at Oxford?
Q: The UN has failed to protect and prevent in such countries as Sri Lanka, where over 40,000 innocent civilians were massacred in 2009. Will you ensure, during your term, that those responsible are brought to justice? Will you ensure there is a proper investigation of war crime?
On this last, Ban on February 2 said
I visited Sri Lanka twice and I had very serious talks with the President and Government leaders. After a lengthy, very difficult, almost turbulent course of negotiations, I was able to convince the Sri Lankan Government that a group of experts would be established. Still, it has not yet been able to complete its mission. They are still negotiating with the Sri Lankan Government.
Inner City Press on February 7 asked Ban's spokesman to confirm or deny that the UN is now offering Sri Lanka a mere video conference call or even just written questions, rather than a visit. The discussions continue, Nesirky said, repeating that a visit to Sri Lanka is "not essential." Nesirky's Deputy Farhan Haq said that a visit to Sri Lanka is "desirable." So what is a video conference, or written questions?
(For updates you can share with your friends, follow TNN on Facebook, Twitter and Google+)