University student leader attacked in Jaffna
A four-member squad on Friday morning attacked the secretary of the Jaffna University Student Union (JUSU) using iron-rods near a Sri Lanka Army camp at Kaladdi in Jaffna with causing serious injuries to the 25-year-old student leader, who was on his way to the University in a bicycle to observe Mu'l'livaaykkaal Remembrance. Despite the threats by the Sri Lanka military intelligence, the students of Jaffna University went ahead with the memorial event stating that it was their democratic right to mark the remembrance day and protested against the military operated administration of civil affairs in the peninsula. Tension prevails at the University of Jaffna where students have gathered in thousands.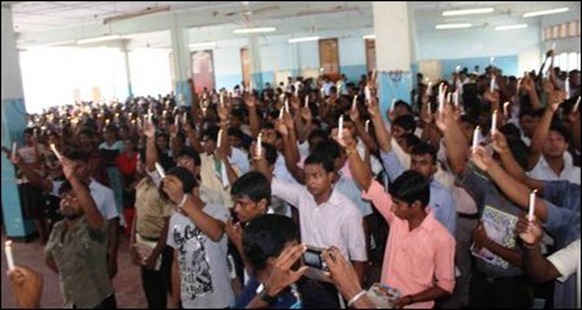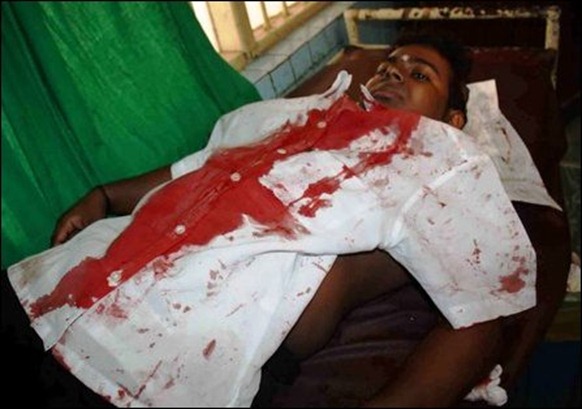 The brutal attack on the student leader has come while he was making arrangements to observe Mu'l'livaaykkaal Remembrance event at the University of Jaffna on Friday.
The student leader has been rushed to Jaffna Teaching Hospital with serious injuries to his head.
K. Tharshananth is a third year student at the Art Faculty of the Jaffna University.
After observing Mu'l'livaaykkaal Remembrance, the students gathered at the university protested against the attack on the student leader and criticized the University administration for failing to voice for the rights of the students.
The students burnt the caricature of the Vice Chancellor of the Jaffna University Vasanthay Arasaratnam blaming her as a puppet of the SL military led administration and the EPDP paramilitary.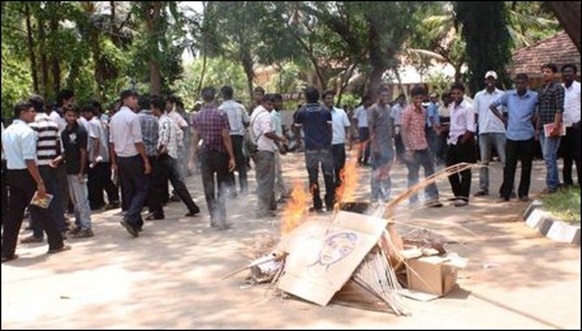 (For updates you can share with your friends, follow TNN on Facebook, Twitter and Google+)