[By:Peter Foster] I want to return to Sri Lanka today where, while the world focuses on the fallout from Mumbai, SL government forces are reportedly closing in on the key rebel strongholds of Kilinochchi and Mullaitivu.
I say 'reportedly' as all information that comes out of the Sri Lanka conflict is inherently untrustworthy since it is provided only by the combatant, both of whom have a long track record of telling lies in the name of propaganda.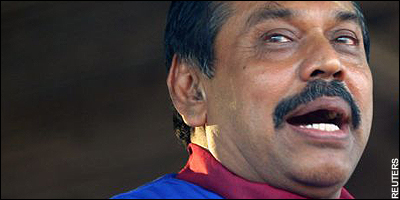 In the north, displaced Tamil civilian populations – perhaps more than 250,000 now, but it's hard to know since the international aid agencies were forced to pull out – are bearing the brunt of the fallout from the fighting.
However the effects of this dirty war are not confined to the battle zone. The attempts to crush the Tamil Tigers militarily and bring them to the negotiating table on their knees is taking a terrible toll on Sri Lankan society as a whole.
It now seems that, in the name of 'national interest' and 'war spirit' Sri Lanka's government has effectively crushed all opposition, even from those who would ordinarily be considered patriots of the Sinhala cause.
No dissent or counter-argument to the war strategy is tolerated by President Mahinda Rajpakse, his brother Gotabhaya (the defence secretary) and chief of the army staff Gen Sarath Fonseka.

Sri Lanka's newspapers, which always had to tread carefully in a small political world, are now being forced to speaking unanimously through a tight pro-government muzzle. Those who dare to speak are politically exiled, threatened with death or, worse, visited by one of the dreaded government snatch-squads in their 'white vans' and beaten, tortured or killed.
Remember Keith Noyahr, the journalist who I reported last May was beaten after writing an article criticizing Gen Fonseka and his colleagues? Here's what Gen Fonseka had to say in an interview posted on the SL Defence ministry website.
I quote him at some length since I can't think of a better way of showing how the SL government and its agencies thinks these days.
Q: But it is reported that the Army is behind the attack on Keith Noyair of The Nation newspaper who had written a military story criticizing the military few weeks before the attack. What do you have to say about this allegation?
A: How many other journalists write political or military columns? Why should the Army attack only on Keith Noyair. I have never seen anywhere that Keith Noyair had said that the Army had attacked him. Some people are trying to put us against him. He has never accused that the Army had assaulted him. And I think perhaps he is guilty that he has done something wrong by writing against the military.
Q: Is he tight-lipped because he is supposed to be in fear of reprisals?
A: If he has not done anything wrong, he does not have to live in fear. If he has done some damage to our organisation or to a person, especially when he has done something which he is not suppose to do, then it is natural he must be living in fear. If they think that they have done something of that nature the best thing for them is to correct themselves and rectify the mistake.
Note first the denial, then the implicit justification in language 'correct' 'rectify themselves' worthy of Mao's China. You can read the rest of Gen Fonseka interview here. Take a second, it gives a fantastic, if rather chilling, insight into Gen Fonseka's views on media freedom.
As for his views on the rightful place for the Tamils in Sri Lanka, this is what Gen Fonseka told Canada's National Post, attracting serious critism from Colombo's Centre for Policy Alternatives.
"I strongly believe that this country belongs to the Sinhalese but there are minority communities and we treat them like our people…We being the majority of the country, 75%, we will never give in and we have the right to protect this country…We are also a strong nation … They can live in this country with us. But they must not try to, under the pretext of being a minority, demand undue things."
I quote these since they shine a light into the thinking that lies behind so much of the lies and repression that is currently going on in Sri Lanka at the moment, all justified in the name of total victory over the LTTE.
In the 'liberated east', where the Sri Lankan government supports the breakaway Tamil group the TMVP, abductions and .
There are dissenting voices, such as that by the former minister and now dissident MP Mangala Samaraweera who has set up an organization called 'Defence Watch' which, he says, is aimed to provide a more balanced view of Sri Lanka's war realities.
There's an element of politics in this, but Mr Samarweera (who once had a ferocious pop at your correspondent after I wrote a series of articles criticizing Sri Lanka's slothful tsunami relief effort), has told parliament that he's already received death threats for his troubles.
Then there is the case of Tamil journalist, JS Tissainayagam who has been in jail since March under Sri Lanka's sweeping anti-terror laws, for writing articles critical of the government in his magazine North Eastern Monthly which has now been shut down.
(For updates you can share with your friends, follow TNN on Facebook and Twitter )