Diaspora Tamils in Norway demonstrated in Oslo on Wednesday against the use of cluster bombs by the Sri Lankan government as 120 countries gathered in Oslo to sign a landmark treaty banning the use, production, transfer and stockpiling of cluster munitions internationally. Signatory states are required to promote universalisation of the Convention on Cluster Munitions (CCM), to notify non-signatory parties of their treaty obligations, and to discourage non-signatory state parties from using cluster munitions.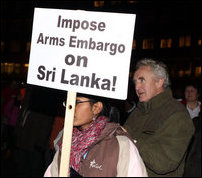 The slogan of the international campaign to ban cluster munitions was: "make it happen". By changing the slogan to "we made it happen," the Norwegian Foreign Minister Jonas Gahr Støre, declared the success of the Oslo Process, an open and time bound diplomatic process that included States, Civil Society, the International Committee of the Red Cross (ICRC) and the United Nations (UN). The process began in February 2007.

Last May, 107 countries had negotiated the treaty prohibiting the use of cluster munitions at the Dublin Diplomatic Conference on Cluster Munitions.

On Wednesday, 92 countries signed the CCM treaty. More countries are expected to sign it on Thursday.
Britain, Australia, Canada, France, and Germany were among the signatories. Russia, China, Israel, United States and India were absent in Oslo on Wednesday.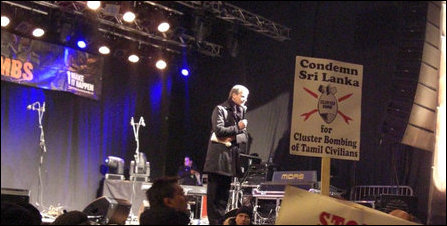 Afghanistan decided in the last minute to sign the treaty, especially after a 17-year-old cluster bomb victim, Soraj Ghulan Habib, who lost both his legs convinced his country to sign the treaty.
ora Lumpe, the coordinator of the U.S. Campaign to Ban Landmines and Cluster Bombs said the CCM was establishing a "powerful norm that cluster bombs are no longer an acceptable weapon of war.
"U.S. President-elect Barak Obama had voted against this type of weapon. Let us examine whether the new U.S. administration has a more positive stand than the outgoing," said Jens Stoltenberg, the Norwegian Prime Minister, who was the first to sign the treaty, while responding to a question from the Norwegian news agency NTB.


The Associated Press quoted an Australian anti-cluster bomb campaigner Daniel Barty : "Once you get half the world on board, it's hard to ignore a ban."
(For updates you can share with your friends, follow TNN on Facebook and Twitter )