VELLANKULAM, Sri Lanka — With Sri Lanka's military making its deepest push into rebel territory in a decade, Asia's longest-running civil war appears to be edging closer to a military solution — though one that has already extracted a high cost for the divided country's civilians.
Following a hard-line strategy designed by the country's defense secretary, Gotabhaya Rajapaksa, an American who once worked as a computer systems administrator in Southern California, the government says its troops have ringed the rebel capital, Kilinochchi, near the northern tip of the island.
Journalists are not allowed to visit rebel strongholds, and so the claim is impossible to verify. But a rare visit near the front, with an escort of soldiers, revealed the remnants of Mr. Rajapaksa's uncompromising assault all along the highway that snakes its way up this island's northwest coast.
The miscellany of war was everywhere. The fishing village of Vellankulam was empty, save for the odd box of mortar rounds. Houses lay in ruins. There were no civilians left, only soldiers and birds.
The destruction was evidence that Mr. Rajapaksa, the brother of President Mahinda Rajapaksa, is determined to do what no Sri Lankan government has been able to do in the 25-year conflict: crush the rebels militarily. He has ended long-running peace negotiations and ignored international calls to improve Sri Lanka's human rights record.
Over the last year, the military has bombed rebel strongholds, sent commandos to execute high-profile rebel leaders and pressed steadily into the rebels' lair, driving an estimated 250,000 civilians ahead of the military advance.
Having fled as many as seven times over the last year, according to aid workers, some of the displaced are huddling in lean-tos in perilous, open paddy fields and, when they can, taking shelter from shelling in rebel-built bunkers.
How long the military can hold on to the jungles and paddy fields remains uncertain. An even bigger mystery may be what happens if the rebel force, the Liberation Tigers of Tamil Eelam, are genuinely defeated and the continent's most persistent civil conflict actually comes to an end.
Despite pressure from its allies, the government has yet to present a serious proposal on how Sri Lanka, a polarized multiethnic country of 21 million people, will be governed. At the nub of the war is the question of political rights of the Tamil minority.
The rebels have fought to carve out a homeland for Tamils on this island for a generation. It has been the government's aim to stop that.
Asked in a recent interview if his mission was accomplished, Mr. Rajapaksa, 59, offered a look of immense satisfaction. Yes, he said, his government had not only bolstered the morale of its own troops and weakened the rebels, but it had also, more importantly, turned public opinion in favor of war. "Earlier, the thinking was, the L.T.T.E. is so strong that militarily, we can't defeat them," he argued. "We have proved we can.
"We were tolerating them for so long," he added of the rebels. "To have a meaningful political solution, you have to eliminate terrorism."
Privately, Mr. Rajapaksa's friends and associates say that his resolve is deeply personal: The Tamil Tigers tried to kill him two years ago.
After more than a decade in the United States, during most of which he said he worked as a Unix systems administrator at Loyola Law School in Los Angeles, Mr. Rajapaksa returned to Sri Lanka in 2005, just before his brother, a veteran of Sinhalese populist politics, was elected.
While Mr. Rajapaksa makes no apologies for his hard-line approach, the stepped-up war effort has drawn a wave of international criticism over Sri Lanka's deteriorating record on human rights and civil liberties charges.
Extortion, abductions and extrajudicial killings continue in government-held areas, and pro-government militias are usually blamed.
Mr. Rajapaksa dismisses this criticism as pro-rebel propaganda. He defends a botched government effort last year to deport ethnic Tamils from the capital, Colombo, to the Tamil-dominated north.
His office vets the movement of all humanitarian aid agencies. In September, he ordered them all to leave rebel-controlled areas in the northeast.
And he insists that journalists should not be allowed to report anything that demoralizes the war effort. Journalists have in fact come under sustained scrutiny, and some have been jailed under the country's preventive detention law.
The restrictions have made divining exactly what is happening on the rebel side all but impossible. Recently the famously elusive rebel leader, Vellupillai Prabhakaran, gave an interview to a Tamil newspaper in India, and described the military's aim of capturing the guerrillas' de facto capital, Kilinochchi, "a daydream."
For its part, the army says it is now on the outskirts of Kilinochchi, which one recent visitor described as "a ghost town." According to the military, the Tamil Tigers hold less than half of the land they administered under a 2002 cease-fire agreement.
This month, the army announced the capture of a strategic crossing, about 19 miles north of here, called Pooneryn, which connects the island to Jaffna peninsula to the north and robs the guerrillas of a crucial smuggling corridor.
But no one knows for sure, since Mr. Rajapaksa does not allow journalists, aid workers or other independent monitors into the conflict area.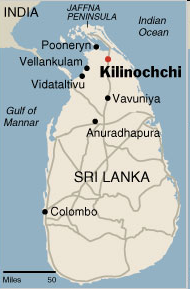 It is clear that Mr. Rajapaksa's drive to eliminate the Tamil Tigers has been no cakewalk for the military, either. In October, a suicide bombing killed more than two dozen people, including a retired army major general in Anuradhapura, an ancient Buddhist pilgrimage site in the heart of the island.
The same month, crudely made Tamil Tiger fighter planes bombed a power station, plunging the capital into darkness. No longer does the military promise a deadline for the war to end; it has missed all previous deadlines.
Perhaps the military's biggest obstacle is the civilians still holed up in rebel territory, alongside the rebels. Artillery fire and aerial attacks would inevitably yield heavy civilian casualties, something the government has repeatedly said it wants to avoid.
According to aid workers who have visited the area, the displaced are sleeping in makeshift tents of plastic and stick, or if they are lucky, crowding into temples and community halls. Schools, if they are not housing homeless families, are taking in students from three or four other schools as well as their own. Classes are going on in shifts. It is a cruel testament to how well this country has adjusted to unending war.
(For updates you can share with your friends, follow TNN on Facebook and Twitter )