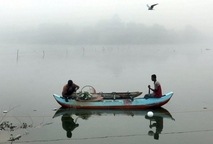 Sri Lanka's central bank Friday left its key interest rate on hold for the 21st straight month as inflation showed signs of easing, a statement said.
The Colombo-based bank left its benchmark repurchase rate unchanged at 10.5 percent, while the cash reserve ratio — the percentage sum commercial banks must keep on deposit there — was left at 12.0 percent.
Inflation, which hit a historic high of 28.2 percent in June, has shown signs of easing, with the Colombo Consumer Price Index reporting a lower rate of 16.3 percent in November.
"The significant decline in inflation is attributable to the pass-through of the rapidly declining international commodity prices," the bank said after its monthly monetary policy meeting.
The bank expects consumer prices to ease in the coming months with the fall in global commodity prices.
The bank said broad money supply growth had slowed to 9.8 percent by the end of October from 16.6 percent at the close of 2007.
Sri Lanka's 35-billion-dollar economy has been hit by a long-running ethnic conflict between the government and Tamil Tiger rebels that has left tens of thousands of people dead since 1972.
This year a global recession has reduced demand for the island's shipments of tea, clothing and rubber, the census and statistics office said on Monday.
Gross domestic product expanded 6.3 percent in the three months ended June 30, compared with 7.0 percent a year earlier, the department said.
Economic expansion is likely to be slower still in the last quarter as the external slowdown hits demand for exports, resulting in year-end growth of around 6.0 percent, the department said.
(For updates you can share with your friends, follow TNN on Facebook and Twitter )