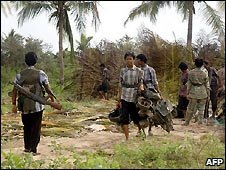 Sri Lanka's Tamil Tiger rebels have said they will continue to fight even if they lose their political headquarters town of Kilinochchi.
There has been fierce fighting as the army tries to capture Kilinochchi.
The head of the rebels' political wing told the BBC he rejected the government's offer of talks if the Tigers disarmed first.
The Tigers say they killed 75 soldiers in the latest clashes. The army has put its losses at 12 dead and 12 missing.
The rival claims cannot be independently verified because journalists are barred from the conflict area.
Symbolic target
The battle for Kilinochchi in northern Sri Lanka is getting increasingly bloody. Both sides claim to be inflicting heavy casualties.
The rebels insist they can defend the town and the head of the Tamil Tigers' political wing, Balasingham Nadesan, told the BBC by e-mail that even if it falls, they will fight on.
"Freedom… never depends on one city. We can create more communities, more cities and [in] our freedom struggle, we are supported by people.
"We have the confidence that we will capture more areas in our motherland and we will create so many communities in [the] future."
He rejected out of hand the government's offer of talks if the Tigers laid down their weapons first.
"This is not a realistic question, we took up arms to safeguard our people, so we will keep these arms until the safeguard is guaranteed," Mr Nadesan said.
(For updates you can share with your friends, follow TNN on Facebook and Twitter )