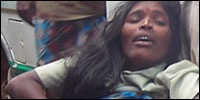 Sri Lanka Air Force (SLAF) bombers attacked a civilian settlement near Murugananda school in Murasumoaddai on Paranthan – Mullaiththeevu Road killing two females of a family and a male on the spot. Another man, who was seriously wounded, succumbed to his injuries at the hospital. 14 civilians, including a couple, were wounded. The attack has targeted three civilian settlements in Murasumoaddai Wednesday around 8:00 a.m. The indiscriminate bombardment on fleeing civilians, Internally Displaced Person's huts, close to the ICRC Karaichchi branch office, a school, temple and agricultural lands aims at instilling fear at the minds of the civilians in Vanni, observers said.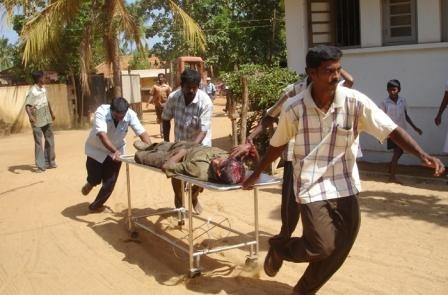 The Sri Lankan air strike targeted civilian houses behind Murugananda school, two settlements of refugees, one at Chelliah Shop Junction and the other behind Cheaththukka'ndi Amman temple at Murasumoaddai.
24-year-old Juda Margarat Aseervatham, 55-year-old Asservaatham Maryamma and Markandu Sivanandan were killed on the spot.
52-year-old Chandrabose, one of the 14 wounded who were admitted at Tharmapuram hospital, succumbed to his injuries at the Intensive Care Unit.
The wounded were identified as I. Nirmalan, 15, S. Ragulan, 21, Arumaiththurai Jesinald, 26, Ramachandran Kumanan, 30, Selvarajah Kulendran, 33, K. Jeyasri, 38, Somasundaram Chandrakumar, 43, Annakkodi Chandramary, 45, Vellaichamy Annakkodi, 49, S. Balasundaram, 51, Palaniayappan Subramaniyam, 52, Ranjithamalar, 58, and Saravana Bavananthan, 62.
(For updates you can share with your friends, follow TNN on Facebook and Twitter )