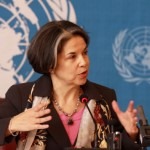 US Under Secretary of Civilian Security, Democracy, and Human Rights Maria Otero told the UN Human Rights Council a short while ago that "time is slipping away" in Sri Lanka.
Otero told the Council that the international community had waited for three years for Sri Lanka to take action on the human rights concerns on the final stages of the war, but Sri Lanka had failed to act.
She however did not make any reference to the US sponsored resolution on Sri Lanka which is expected to be presented to the Council.
Otero said that the US government welcomed the release of the Lessons Learned and Reconciliation (LLRC) report but stressed that the recommendations of the report must now be implemented.
(For updates you can share with your friends, follow TNN on Facebook and Twitter )