BN must condemn civil war abuses or lose support from Malaysian Indians, says DAP's Manogaran.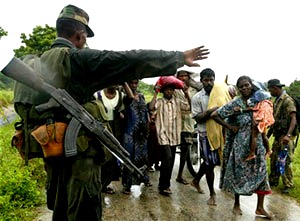 KUALA LUMPUR: Barisan Nasional risks losing votes from the Indian community if Putrajaya fails to support a United Nations resolution on alleged human rights abuses during the Sri Lankan civil war.
This is according to the MP for Teluk Intan, DAP's M Manogaran who, along with Sungai Petani MP Johari Abdul (PKR) and Senator S Ramakrishnan (DAP), went to Sri Lanka last May to assess the humanitarian situation there in the aftermath of the conflict, which ended in 2009 with the defeat of Tamil rebels.
The UN resolution is being considered by its Human Rights Council (UNHCR), which has been meeting in Geneva since last week. The session ends on March 23. The resolution, sponsored by the United States, France and Norway, urges the Sri Lankan government to investigate alleged abuses during the 26-year civil war, but Colombo says it interferes with the country's internal affairs.
Manogaran told FMT that he and other Pakatan leaders last Friday sent a memorandum to Prime Minister Najib Tun Razak asking him to ensure that Malaysia support the resolution.
"The Malaysian government must take into account the Malaysian Indian community's opinion," he said. "It must support the resolution or BN will be overlooked by the Indian community in the next general election."
Malaysian Indians, most of whom are Tamils, generally sympathised with the rebels during the war.
The sponsors of the resolution propose, among other things, that an international mechanism be established to protect Sri Lankan Tamils and Muslims from structural genocide.
There have been widespread allegations of atrocities against Tamils during the conflict, especially in its closing stages.  Colombo has denied any wrongdoing. However, there have been reports that at least 40,000 civilians lost their lives in the last stages of the war and tens of thousands more disappeared.
Minority rights

On May 27, 2009, 10 days after the final government assault, the Malaysian government supported a Colombo-sponsored UNHCR resolution that claimed justifications for the military solution to the conflict.
Hindraf Makkal Sakti has also urged Putrajaya to support the new resolution, saying it would be one way for the Najib administration to prove that it respected human rights, especially the rights of minorities.
"Malaysia must demonstrate that it deserves its place in the UNHRC," Hindraf coordinator W Sambulingam told FMT's Athi Shankar in George Town. "Or else, it will be ridiculed for tacitly supporting crimes against humanity and promoting racism."
He called on Pakatan Rakyat to table an emergency motion in Parliament next week to compel Putrajaya to support the new resolution.
He said Pakatan state governments should convene emergency state assembly sittings to pass similar motions.
Twenty-five of the 54 member countries of the UNHRC have already backed the resolution, which can lead to international sanctions against the Singhalese-dominated Colombo administration.
(freemalaysiatoday.com)
(For updates you can share with your friends, follow TNN on Facebook and Twitter )