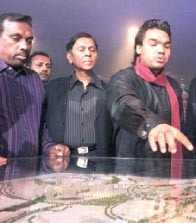 Sri Lanka spent around US$ 8 million (approximately SLR 880 million) for the recent Hambantota 2018 bid to host the Commonwealth Games.
This included hundreds of millions spent on PR firms,  which represented Sri Lanka for the Commonwealth Games bid, and on the 120 strong delegations to St. Kitts and Nevis, while Australia sent only 20 representatives.
Although official figures have been given for the expenses of the delegation, it is said that the price of an air ticket to St. Kitts was Rs. 150,000 which means, that nearly Rs. 16.5 million had been spent solely on air travel.
First, the government paid US$ 2.6m up front to "PMPlegacy", a London-based international management consultancy firm, to administer the bid. According to financial reports of PMPlegacy, they had paid a 15 percent commission to the Sri Lankan Commonwealth Games organising committee.
Furthermore, Sri Lanka paid US$ 1 Million to an Indian based Event management Company. The country  also spent lavishly on incidentals like foreign trips, visiting CGF delegations, chopper rides to and from the proposed venue—faraway Hambantota, on Sri Lanka's southern coast and carousing the night away in St. Kitts. The government claimed the money came primarily from the private sector, but then mystifyingly declined to name the contributors.
In any case, a mammoth delegation left for the Caribbean a full week ahead of the CGF vote. Aboard the chartered plane were sports personalities, a reigning beauty queen and a former-beauty-queen-cum-actress-turned-politician. Mingling with the politicians, officials and journalists were assorted and sundry businessmen, chefs and a cultural troupe. They enjoyed sing-alongs on board. At St. Kitts, they checked into four-star hotels. The reports reveal that, among the 400 who were present from 70 sports federations of Commonwealth countries, a full 160 were from Sri Lanka. Only a mere 20 came from Australia.
The bid to play host to the Games in deeply rural Hambantota was based on nothing more than an elaborate dream. The proposal was conjured up by Namal Rajapaksa, the president's sporty eldest son.
Critics question the commercial viability of the project which involved large scale construction, the cost of which would run into several billions of dollars. The Commonwealth Games in New Delhi cost US$ 4.6 billion, nine times higher than its 2003 estimate of US$ 500 million. Whether the government could spend such a colossal amount of money, which would dwarf the total investment cost of the Mahaweli project for the Games of the former British Empire, especially when the country is beset by far more pressing issues, is still widely debated.
(For updates you can share with your friends, follow TNN on Facebook and Twitter )