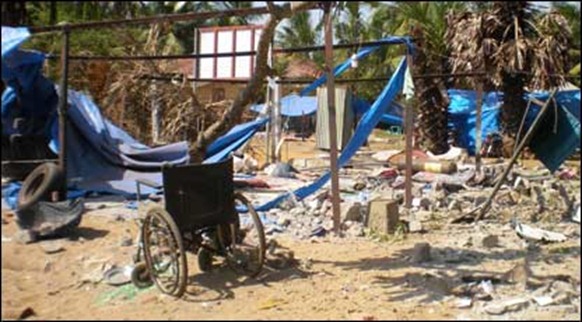 The director of a British documentary on last stages of Sri Lanka's civil war has accused the West and the United Nations of failing to take any "effective action" to prevent alleged war crimes by the country's security forces.
Callum McCrae, the director of "Sri Lanka Killing Fields: War Crimes Unpunished" said that many allegations against Sri Lanka government have been confirmed through leaked UN documents, US embassy cables revealed by Wikileaks and an interview former senior UN official John Holmes.
"The international community has an obligation of duty to protect which is a fundamental principal under international law. That duty was not carried out; the international community has failed on that," he told BBC Sinhala service, Sandeshaya.
MrMcCrae says there were two major reasons for the "failure" by the international community to prevent Sri Lanka continuing with war crimes.
"The climate this was allowed to happen was that Rajapaksa regime used the Western Agenda war on terror to justify what they were doing," he said.
The film, to be released on 14 Wednesday in UK by Channel4, also figures harrowing details of the killing of Rasmachandran Prabhakaran, 12, the younger son of Tamil Tiger leader Velupillai Prabhakaran.
Mr McCrae said the footage, recorded by a member of Sri Lankan armed forces, has been carefully examined by video experts to confirm that it was authentic.
"The forensic pathologist analysed and the moment of death from the nature of the wounds and it is clear that he was executed in cold blood," he added.
The killing, together with other incidents of alleged executions by the security forces, is a clear proof that that there was a "systematic pattern of executions of leading LLTE figures and fighters."
The film alleges that orders for the alleged executions as well as "deliberate targeting of civilians" have come from the most senior commanders, including President Mahinda Rajapaksa, Defence Secretary Gotabhaya Rajapaksa and Commander of Sri Lanka Army, Gen Sarath Fonseka.
"The Sri Lankan military is very very disciplined and very organised. The men who have most frequently claimed direct control of the war were President Mahinda Rajapaksa and his brother Gotabhaya," he said.
The film reveals, says Mr McRae, how a group of UN workers were fired upon by the Sri Lanka military after the workers informed their GPS coordinates to the military.
"There were systematic shelling of the UN bunker and the area around it. When they protested about it, they were told were sent directly by Gotabhaya Rajapaksa and Sarath Fonseksa," he said, adding that it shows the highest command was aware about the attacks into the no fire zone.
(For updates you can share with your friends, follow TNN on Facebook and Twitter )