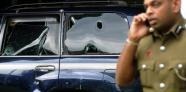 Sri Lanka has imposed censorship on security-related mobile phone messages despite the withdrawal last year of tough emergency laws following the end of its separatist war with Tamil rebels.
The defence ministry's Media Centre for National Security (MCNS) in a directive to media organisations said they must get prior approval to publish SMS news alerts "related to national security and security forces."
The censorship, which was announced in a directive dated Friday but seen by AFP on Monday, appeared to be limited to SMS news alerts issued via mobile phones.
The directive came after reports of the killing Friday of three soldiers in the island's north raised fears that the Tamil Tiger rebels, crushed in May 2009, were regathering to resume attacks.
However, tensions eased after the army announced that the killings were carried out by a soldier who later turned the gun on himself and no rebel activity was suspected.
"Any news related to national security and security forces (and) the police should get prior approval from the MCNS before dissemination," MCNS Director General Lakshman Hulugalle said in his directive.
The government imposed censorship during the height of fighting between troops and Tamil Tiger rebels using emergency laws that were relaxed last August following intense international pressure.
It was not immediately clear what legal provisions were being used to censor SMS alerts.
The censorship directive came into immediate effect and applied to over a dozen news services. Sri Lanka's five-player mobile industry has over 18 million subscribers.
Almost all major media outlets have their own SMS alerts to complement their mainstream radio, television and newspapers.
The directive came at a time when Sri Lanka is facing censure at the UN Human Rights Council in Geneva over its handling of the war against Tamil Tigers as well as its treatment of the independent media.
Some 17 journalists and media employees have been killed in Sri Lanka in the past decade, pro-opposition websites have been blocked and media organisations opposing government views have been attacked, according to rights groups.
(For updates you can share with your friends, follow TNN on Facebook and Twitter )