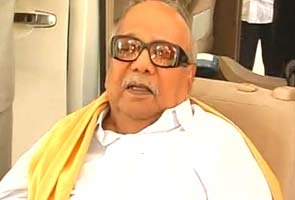 Pranab Mukherjee's message to the members of the UPA couldn't have been more direct – any formal expression of differences in parliament will be grabbed by the BJP to try and trip up the government. Yet, the morning after a dinner at the Prime Minister's residence, the DMK has not abandoned plans to follow through on an amendment it moved to President Pratibha Patil's address to Parliament earlier this week.
That speech inaugurated the Budget session and laid out the government's agenda. The DMK wants it changed to reflect India's stand on Sri Lanka and its alleged war crimes. The DMK, a senior partner in the UPA, has said the government must vote against Sri Lanka at a session of the United Nations Human Rights Council. In a letter to the DMK chief yesterday, the Prime Minister seemed to suggest this was unlikely. Sources in the DMK said today that they will consider withdrawing their amendment depending on the statement of Foreign Affairs Minister SM Krishna which will outline India's plan for the United Nations vote.
Mr Mukherjee, who is the Finance Minister, told the DMK and Mamata Banerjee's party last night that moving amendments to the President's address could allow the BJP to push for a vote, and that could bring down the government. Like the DMK, Ms Banerjee has moved an amendment to the President's speech. Her party has asked for a reference to the contentious National Counter Terrorism Centre (NCTC) to be deleted.  The new anti-terror hub, according to Ms Banerjee and nine other chief ministers, impinges upon the autonomy of state governments.
The PM's dinner last night was meant to bring all partners in the government onto the same plane amid increasing speculation of the fragility of their coalition. Ms Banerjee did not help check those reports – she chose to skip the dinner, and flew instead to Nagpur to attend a wedding.  Her party's senior MPs and ministers did not fill in for her.  Instead, a first-time MP, Ratna De Nag, represented Ms Banerjee's party, the Trinamool Congress.
(For updates you can share with your friends, follow TNN on Facebook and Twitter )