Targeting the US draft resolution to be tabled in Geneva later this month, hundreds of Tamils gathered outside the US Embassy in London on Friday demanding that an independent international investigation into the genocide of Eezham Tamils in their homeland be included in the resolution at the 19th session of the UN Human Rights Council. Arranged at short notice by the Tamil Coordinating Committee UK (TCCUK), the demonstration drew a cross section of Eezham Tamils in the UK, including significant number of youth. Demonstrators held placards that identified Eezham Tamils as a nation and asked the international community to initiate a UN-sponsored referendum to resolve their national question.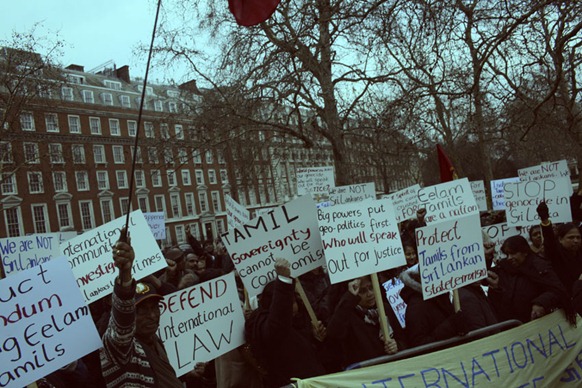 This is the first time in recent years that Eezham Tamils have held a demonstration in front of a US diplomatic mission.
PDF: Resolution by 12 diaspora Organisations
Demonstrators spoke to passersby and took time to explain the protracted nature of genocide, war crimes and crimes against humanity that had been committed by the Sri Lankan state against Eezham Tamils ever since its so-called independence in 1948. They also asked for justice to be placed above geo-politics in dealing with Eezham Tamils and the Sri Lankan State.
PDF: Joint statement by the diaspora organisations
Slogans emphasised need for immediate withdrawal of Sinhala armed forces from the Tamil homeland, unconditional release of all Eezham Tamils detained by Sri Lanka and a UN-sponsored referendum with independent and sovereign state of Tamil Eelam as an explicit option.
Event organisers handed over to the Sri Lanka section of the embassy a copy of the joint statement and resolution released by a coalition of 12 grassroot Tamil organisations from around the world on 13 March 2012.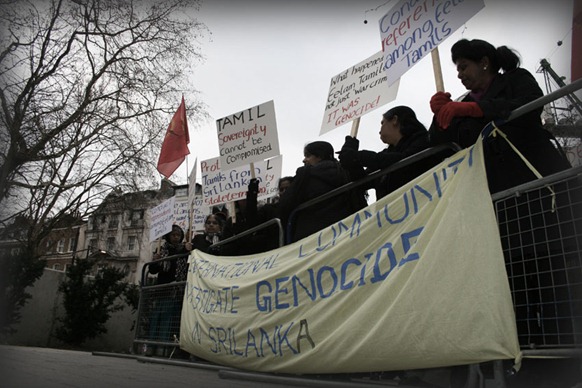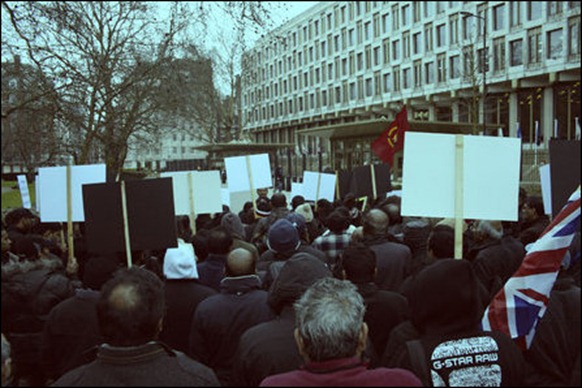 (For updates you can share with your friends, follow TNN on Facebook and Twitter )