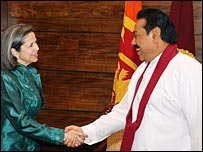 The President of Sri Lanka has urged journalists in the island to focus on what he called as positive news rather than only focusing on negative aspects.
The duty of the "responsible journalist" is not only to report "rapes, murders and that one can survive a month with Rs 2500," said President Mahinda Rajapaksa, but also to inform the public of the development initiatives launched by the government.
The president Mahinda Rajapaksa made the appeal as he declared open a new Media Development Centre at the Information Department in Colombo.
"It is not an exaggeration if I say that a rapid development is taking place in this country in a speed than we speak and write," he said.
"And it is not limited only to Colombo or Hambantota."
'Provoking racism'
President Rajapaksa questioned why the media do not focus on such developments.
"We have released nearly 14,000 LTTE suspects after rehabilitation. Whenever we talk about this with foreign dignitaries and foreign embassy officials they keep saying that they did not know about those intiatives," he added.
Speaking in Tamil, Mr Rajapaksa appealed to country's Tamil media outlets to inform people on development projects while pointing out wrongdoings and mistakes.
He also urged Tamil journalists not to carry out propaganda that provokes racism in the island that suffered for decades due to armed conflicts.
(For updates you can share with your friends, follow TNN on Facebook and Twitter )