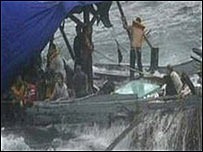 Refugee rights activists in Australia have called on the Australian government to release a Sri Lankan Tamil detainee who was admitted to the hospital after being assaulted by the security guards.
Ian Rintoul, of Refugee Action Coalition (RAC) in Sydney told BBC Sandeshaya that Australia's immigration minister should conduct a full inquiry into the assault in Villawood detention centre on Saturday morning.
"Chris Bowen should release this man from detention so he can be properly cared for," he said.
The detainee, a psychologically-impaired Tamil asylum seeker, was assaulted by 5-6 security guards on Saturday.
The detainee was admitted to hospital with injuries after several Serco security guards assaulted him, Mr Rintoul told BBC Sinhala service, Sandeshaya.
Serco Group is a UK based company that provides security for the Villawood detention centre.
"This is someone who is a refugee, someone who the government has the duty to care for and also someone who the guards knew very well that was suffering from mental illness and should never been treated like this," he said.
Torture in Sri Lanka
The rights activist witheld the name of the victim fearing a backlash on family members in Sri Lanka.
He has suffered torture in Sri Lanka was left severely traumatised as well as physically injured, said Mr. Rintoul.
"He was grabbed by 5-6 guards, he was held behind his arms he was then thrown onto the ground and then was punched," he said describing the attack in Villawood.
The detainee was subsequently taken to the hospital where he is still being treated.
"He has got bruises in the face, bleeding in his nose, he has now got a neck injury and he is still complaining of sore arms where it was twisted," said Mr Rintoul.
The detainee is among an estimated 300 Tamil asylum seekers currently detained in Australia.
He added that a recent parliamentary report has stressed that asylum seekers seriously suffer psychologically due to long-term detention pending results of their applications.
Maximum 90 days
"Coming just one day after the Parliamentary report, this incident shows why detention centres should be closed. It is bad enough that detention creates and exacerbates mental illness, it is disgraceful that a mentally ill man, should be subject to this kind of abuse," said Ian Rintoul.
The bipartisan parliamentary committee, chaired by Labor MP Daryl Melham, made a total of 31 recommendations to Australian immigration authorities.
Its main conclusion was "all reasonable steps be taken to limit detention to a maximum of 90 days," and that the Department of Immigration and Citizenship should publish "reasons for continued detention in cases where detainees were held for longer".
(For updates you can share with your friends, follow TNN on Facebook and Twitter )