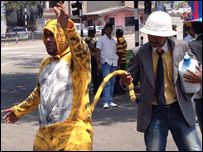 An umbrella group of media organisations has urged Sri Lanka government to stop all attacks against its critics, including journalists.
In a statement issued in the wake of recent hate speeches in state-run media and a cabinet minister publicly admitting attacks against journalists, the Alliance of Media Organisations (AMO) says it is disturbed by the trend.
Admitting responsibility for the abduction and assault of Poddala Jayantha in June 2009, Public Relations Minister Mervyn Silva has suggested that "traitors should be executed," the statement said.
He has threatened to "break the limbs" of Sunanda Deshapriya, Nimalka Fernando and Pakiasothy Saravanamuttu who attended the recent session of UN Human Rights Council (UNHRC) in Geneva.
In the aftermath of the UNHRC, the state media has also carried a "malicious smear campaign" against its critics, says the AMO statement signed by Sunil Jayasekara, the convenor of Free Media Movement.
In one broadcast, the Sri Lanka Working Journalist Association (SLWJA) president Gnanasiri Kottigoda was targeted in a "character assassination" without naming him, it says.
The ITN has said it would soon be "exposing another 'traitor' who had been aiding and abetting the Tamil diaspora through his reporting from Colombo," said the statement.
The Alliance says it is worried that such character assassinations may be a precursor to "something far more ghastly."
(For updates you can share with your friends, follow TNN on Facebook and Twitter )